Yuridia Discusses Newest Album
If you wanted to see the popular Mexican star, Yuridia, perform live, you'll have to wait a while as she's currently on tour in Mexico. However, until she comes back to town, there's a solution.
Her latest album, Primera Fila, is also her first live album and was released late last year and features 17 tracks.
Along with 13 of her greatest hits, the record also includes 4 new songs.
Fans of the musician will appreciate the content as it fully displays her beautiful vocals, live band and features performances with the legendary Pepe Aguilar, Malú and Audri Nix.
When asked about the state of her current tour, Yuridia says she's extremely happy with everything from stage production to general travels.
"It's been wonderful," she said. "I've figured out how to put the whole group together. It's been very difficult to find people that I feel comfortable with on and off the stage."
"I finally found a group of people I love to work with and it's been a lot of fun, I enjoy it a lot more and I have a lot of fun when I'm traveling," she explained.
Some might recognize the performer from her appearance on the Mexican reality music competition, "La Academia" where she won second place.
Yuridia reminisced about her time in Los Angeles during her auditioning phase and said, "It's a city that changed my life."
"It's fun! It's a crazy city that's full of diversity and music. It reminds me of the moment I went with my dad to audition."
As for performing in the City of Angels, the singer can still recall her first performance and recounts how shocked she was to hear people singing along to her songs.
If you've never gotten the chance to see her live, Primera Fila is the next best thing.
Along with getting to listen to her live show from the comfort of your home while you sing along, it also shows why she has had a career spanning more than a decade.
The first single, "Amigos No Por Favor," has gotten more than 76 million views in just four months.
Besides the lovely vocals, another reason as to why the song has resonated with so many is the theme of it.
"Amigos No Por Favor," essentially describes the usual scenario of friends with benefits. One person develops feelings and is left hurt and on their own trying to put the pieces back together.
Speaking of the first time she performed the single, she said she noticed audience members turning to look to their friends as if signaling the song was exactly what they were going through.
"It's a story that's so common now a days," she said. "I don't think there are a lot of people willing to be in a very serious relationship anymore."
You can listen to the album on Spottily, iTunes and Apple Music.
To get updates on Yuridia, visit www.yuritaflowers.com.
Marvin Vasquez contributed to this story.
Video Slider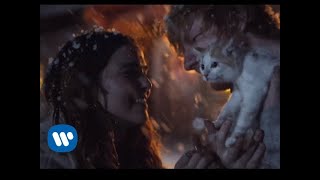 Win Tickets to See Ed Sheeran at the Rose Bowl
Ed Sheeran is back in Los Angeles, and your chance to see him perform is at the Rose Bowl in Pasadena on Saturday, Aug. 18. We are giving away complimentary tickets to the show. For a chance to enter to win, email us at
[email protected]
with "Ed Sheeran" in the subject line and tell us why you would like to go.