Win Tickets to See My Morning Jacket at the Shrine Auditorium
Win tickets to see My Morning Jacket at the Shrine Auditorium.
My Morning Jacket is back in L.A. and now is your chance to go at the Shrine Auditorium in Los Angeles: Tuesday, October 13th.

We are giving away a pair of tickets to the show.
For a chance to enter to win, e-mail us at with "My Morning Jacket" in the subject line and tell us why you'd like to go.
This contest ends on Friday, October 9th, 2015 at 3 p.m.
More Info About My Morning Jacket
My Morning Jacket has built a reputation as a group who consistently challenges the paradigms in which they are placed. From psychedelic to soul to classic rock and roll, My Morning Jacket's range remains steadfast throughout the band's sixteen years. The Louisville quintet released the first of 6 albums in 1999 with their last two, 2008's "Evil Urges" and 2011's "Circuital" each receiving Grammy nominations – the latter debuting at number 5 on the Billboard 200 chart.
On May 5, 2015, My Morning Jacket will release their seventh full-length album, The Waterfall. Recorded in Northern California's Stinson Beach, they gladly took the inspiration that it offered and crafted a sparkling new album. The band features Jim James (singer/songwriter, guitar), Tom Blankenship( bass), Patrick Hallahan(drums), Carl Broemel (guitar, pedal steel, saxophone, vox) and Bo Koster (keyboards, vox). Known as one of the most engaging, eclectic & electric bands, in no small part due to Jim James' other-worldly vocals, they've become legendary for their live performances. The New York Times wrote this about the band, "…the new kings of expand-your-mind, religious-experience rock…"
————————————————————————
What: My Morning Jacket, Tuesday, October 13th at 8:00 p.m.
Where: Shrine Auditorium, 665 W. Jefferson Blvd., Los Angeles, CA 90007
Tickets: www.axs.com
Video Slider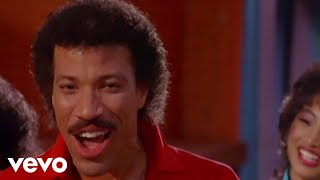 Win Tickets to See Lionel Richie at Hollywood Bowl
Lionel Richie is performing with very special guest Mariah Carey on the All the Hits Tour, and your chance to see them is at the Hollywood Bowl on Monday, July 31.