Win Tickets to See Air at the Greek Theatre
Win tickets to see Air at The Greek Theatre.
Air return to Southern California, and your chance to see them perform is at the Greek Theatre on Sunday, June 25.
We are giving away complimentary tickets to the show.
For a chance to enter to win, email us at with "Air at The Greek Theatre" in the subject line and tell us why you would like to go.
More info on Air
Who has never finished reading a book and instantly missed its familiar universe and characters who had just become friends? Who has never felt like re-reading it all over again and felt envious of the new readers who will discover it for the first time ? Air, the French band who wrote such a music novel, belongs to that category. The light but dense electro-acoustic pop of the band created in the mid-90's influenced several generations and left its mark on the sound of its time. Along the way, Air has produced cult albums (Moon Safari in 1998, The Virgin Suicides in 2000), clever pop LPs (Talkie Walkie in 2004), rich experimentations (10 000 Hz Legend in 2001) and various collaborations (with Beck and Radiohead producer Nigel Godrich, Charlotte Gainsbourg on her 5:55 album, Jarvis Cocker…).
For most of the listeners, playing this best-of will be like reliving the magic of past travels. For others, it will be a call to join the band and embark into a unique and epic music journey. There will be also new adventures for the most loyal fans: in addition to a first CD featuring 17 classic tracks, two more CDs are full of rare and unreleased tracks and remixes for other artists and themselves. A reminder of the ever-surprising Air universe.
Since they met in a Versailles high-school in the 1980's before becoming Air in the mid-90's, Nicolas Godin and Jean-Benoît Dunckel have never stopped claiming the volatile aspect of their music. Each project constitutes its own and unique planet. The retro-futuristic compositions of Moon Safari's, their first international success in 1998, were the soundtrack of a whole generation of teenagers's trips to heaven. On the opposite side, The Virgin Suicides, recorded for Sofia Coppola's film in 2000, was the Dark side of the Moon Safari with its gothic and dreamlike tracks conveying teenage trouble. Earthier and more experimental, the very sophisticated 10 000 Hz Legend (2001) welcomes the band into adulthood before the accomplishment of Talkie Walkie (2004), a true pop masterpiece followed by Pocket Symphony in 2007 and Love 2 in 2009. Then, the band flew once again to the Moon in 2012 for the masterful and dreamlike soundtrack of the restored version of Georges Méliès's film « Le Voyage dans la Lune ». An eerie project featuring the track "Moon Fever," available in this best-of. This fructuous collaboration with every art form was renewed with Music For Museum, recorded in 2014 for the Lille Palais des Beaux-Arts. Inspired by the museum collection, Air wrote the nine tracks (including "Land Me," the last track of CD1) of a music ballet. A unique art and music experience.
Soon after forming, Air was labelled as a French Touch act because their early tracks featured in Premiers Symptômes (1997) shared some similarities with Daft Punk, Phoenix or Etienne de Crécy who also became first famous in the UK. Yet, this best-of proves that their singularity set them apart from this movement. Away from the world explosion of French electronica, their compositions still sound fresh 10, 15 or 20 years later. They are timeless, which was the band's first ambition : « to create classic standards ».
Beyond the caricatural use of some effects (the vocoder and the Moog) or the simplistic « easy-listening » categorization, this success is the actual result of the creative process. The power and timelessness of these tracks come from a prodigious music knowledge and a never-ending passion for instruments (from the Fender Rhodes electric piano to the Japanese koto) and gear. From classical music (Bach or Debussy) to soundtracks (Aaron Copland, Nino Rota, Ennio Morricone, John Barry), sixties French pop (Michel Legrand, Michel Polnareff, Michel Berger, Serge Gainsbourg, Françoise Hardy…) to the Beatles, Brian Eno, David Bowie or Kraftwerk, Nicolas Godin and Jean-Benoît Dunckel sublimate all their personal influences to create a rich, dense and deep atmosphere. Beyond time. Into Air.
————————————————————————
What: Air, Sunday, June 25 at 7:30 p.m.
Where: The Greek Theatre, 2700 N. Vermont Ave., Los Angeles, CA, 90027

Tickets: axs.com
Video Slider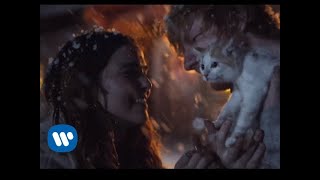 Win Tickets to See Ed Sheeran at the Rose Bowl
Ed Sheeran is back in Los Angeles, and your chance to see him perform is at the Rose Bowl in Pasadena on Saturday, Aug. 18. We are giving away complimentary tickets to the show. For a chance to enter to win, email us at
[email protected]
with "Ed Sheeran" in the subject line and tell us why you would like to go.