Win Tickets to See Orishas and Los Rakas at The Regent Theater
Win tickets to see Orishas and Los Rakas at The Regent Theater.
Orishas and Los Rakas are back in L.A. and now is your chance to go at The Regent Theater in Los Angeles: Saturday, September 3rd.

This contest ends on Thursday, September 1st, 2016 at 1 p.m.
More Info About Orishas and Los Rakas
Orishas is a Cuban hip hop group from Havana, Cuba, founded in 1999 and split in 2010. The group was first called "Amenaza," "threat" or "menace" in Spanish, and appealed to the Cuban youth who were hungry for African-American culture consisting of hip hop and rap. Orishas delved into a realm of music that created a black identity to which some among the younger generations could relate. The group is based in France where they made a deal with a record company, although they visit Cuba frequently. In 1999 Fidel Castro threw a party for them and had a meeting with all the musicians. It was the first time the Cuban government showed support for hip hop music. The group was and still is popular in Europe (especially France, Spain and Portugal) and Latin America. Yotuel Romero and Ruzzo Medina, who moved from Havana to Paris as part of an international studies program, joined Roldán González and Flaco-Pro to form the band in 1999. Their work is influenced by the hip hop movement as well as Cuban and other Latin rhythms.
Los Rakas is comprised of cousins Raka Rich & Raka Dun, pioneering Panamanians by way of the Bay Area on the frontier of a new Latin urban sound. Known for their fresh mix of hip-hop, plena, reggae and dancehall music with both Spanish and English lyricism, Los Rakas represent the cutting edge of Pan-American flows. Taking their name from the Panamanian word "Rakataka" – a negative slur used to describe someone from the ghetto – Los Rakas have set out to both inspire fellow "Rakas" by empowering them to become successful despite their circumstances, turning the current Latin hip-hop world on its head. They are part of a growing movement of DIY artists opening new spaces for true urban music to flourish worldwide in the Internet Era.
————————————————————————
What: Orishas and Los Rakas, Saturday, September 3rd, 2016 at 8:00 p.m.
Where: The Regent Theater, 448 S. Main St., Los Angeles, CA, 90013
Tickets: www.ticketfly.com
Video Slider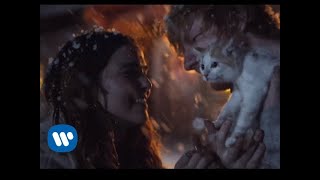 Win Tickets to See Ed Sheeran at the Rose Bowl
Ed Sheeran is back in Los Angeles, and your chance to see him perform is at the Rose Bowl in Pasadena on Saturday, Aug. 18. We are giving away complimentary tickets to the show. For a chance to enter to win, email us at
[email protected]
with "Ed Sheeran" in the subject line and tell us why you would like to go.