Win Tickets to See Natalia Lafourcade at the Theatre at Ace Hotel
Win tickets to see Natalia Lafourcade at the Theatre at Ace Hotel.
Natalia Lafourcade is back in Los Angeles, and your chance to see them perform is at the Theatre at Ace Hotel in Downtown on Wednesday, May 23.
We are giving away complimentary tickets to the show.
To enter for a chance to win, email us at with "Natalia Lafourcade" in the subject line and tell us why you would like to go.
This contest ends on Monday, May 21 at 1 p.m.
More info on Natalia Lafourcade
Natalia Lafourcade was born February 26,1984 in Mexico City. Her father, Gaston Lafourcade, founder of the Association of Organists and Harpsichordists of Chile, served as professor at the National Autonomous University of Mexico (UNAM). Her mother, Maria del Carmen Silva Contreras, also a music educator, created the Macarsi Method of Musical Education. Natalia spent much of her childhood in Coatepec, Veracruz surrounded by music and art.
After joining a pop group named Twist at age 14, Natalia decided to formally study music. She gained a musical foundation in guitar, piano and voice in Mexico City and continued studies in Boston. At age 16 she began to write songs.
In 2002, at 17, Natalia signed with Sony Music and recorded her debut album Natalia Lafourcade, produced by Loris Ceroni and Aureo Baqueiro. In 2005 she was joined by her band La Forquetina for her second album Casa (which received a Latin Grammy for Best Rock Album by a Duo or Group with Vocal ).
In 2006, after nine months in Canada, she wrote instrumental compositions for an EP, Las cuatro estaciones del amor (The Four Seasons of Love) (2006), recorded in collaboration with the National Youth Orchestra of Veracruz. At the same time she was writing songs that were later to be released on her fourth album, HU HU HU (2009).
Having a strong social conscience, Natalia has supported various humanitarian causes such as Un techo para mi pals (A roof for my country), El Caracol Foundation, the Ponte Oreja project of the MVS Foundation, and the Camino Segura Foundation in Guatemala. She is a spokesperson for Save the children and supports SIVAM (Sociedad Internacional de Valores de Arte mexicana A.C.). She wrote the theme song Un derecho de nacimiento (A Birthright) to help the political youth movement YoSoy132.
Natalia's singing is heard on the Spanish soundtrack of the 2009 film El Gato con Botas (Puss 'N Boots) and in the music for the Mexican television series Locas de Amor (Crazy for Love) (2009). She produced music for artists such as Carla Morrison and Ximena Sariria. During a concert in celebration of the Mexican Bicentennial of Independence in 2010, she sang with Ely Guerra, La Blondo, Alondra de la Parra and the Philharmonic Orchestra of the Americas. She collaborated on soundtracks for films such as Amarte duele (It hurts to love you) (2002), Temporada de patos (Duck Season) (2006), and No se si cortarme las venas o dejarmelas largas (I don't know whether to cut my veins or grow them long) (2013). Her appearances on screen include acting in the 2012 film, El cielo en to mirada (Heaven in your Eyes), directed by Pedro Pablo Ybarra, and a segment in the documentary Hecho en Mexico (Made in Mexico), produced by Duncan Bridgeman. She was also the subject of a reality show entitled "Mi Mundo Privado" ("My Private World").
Natalia has participated in tributes to various composers and performers such as Caetano Veloso, Simon Diaz, Jose Alfredo Jimenez, Mecano, Jose Jose, Intocable, Luis Eduardo Aute y Chavela Vargas. She has sung duets with numerous singers, among them Pepe Aguilar, Juan Gabriel, Jose Jose y Gilberto Santa Rosa.
Natalia's fifth album, Mujer Divina – a tribute to Agustin Lara (2012) is a heartfelt production in which Natalia adapted a selection of Lara's songs and invited the collaboration of musicians such as Gilberto Gil, Vicentico, Miguel Bose, Lila Downs, Adrian Dargelos (BabasOnicos), Meme (Cafe Tacuba), Jorge Drexler, Le6n Larregui (Zoe), Leonardo de Lozanne, Leonel Garcia and Kevin Johansen. The album went platinum and won two Latin Grammy Awards: Best Alternative Album and Best Long Version Music Video.
In 2013 Natalia wrote the music for the tourist and cultural project "Yo descubri Yucatan (I discovered Yucatan)" The following year, she was one of five artists selected to make a playlist to accompany Spotify users during their tour at the Palacio de Bellas Artes of the exhibition En esto ver ague°. (In this see that) about the work of Octavio Paz.
Her latest recording released in January 2015, Hasta la raiz (Down to the root), debuted at No.1 on iTunes and Deezer. In addition, the singles "Hasta la raiz" and "Nunca es suficiente" ("It's never enough") reached No.1 in the Viral 50 list on Spotify Mexico and within the Top Ten in the global category. This production has already achieved sales in platinum and gold in Mexico and gold in Italy. It received five Latin Grammys in 2015: Best Record of the Year, Best Song of the Year, Best Alternative Music Album, Best Alternative Song, and Best Engineered Album, as well as a Grammy (U.S.) for Best Latin Rock, Urban or Alternative Album (2016).
Natalia LaFourcade has captured hearts all over Mexico and in countries across the world – Peru, Chile, Guatemala, Canada, Japan, USA, Venezuela, Argentina, Spain, Italy, Dominican Republic, Columbia and Denmark. This year she completed the first stage of the "Buscando raices (Finding roots)" tour, performing in historic theaters in Mexican cities such as Zacatecas, Veracruz, Tlacotalpan, LeOn, Guanajuato, Oaxaca, y Puebla.
Throughout her career, Natalia has received numerous honors and awards including Grammy Awards and MTV Latino awards. Her undeniable talent and success are recognized from the Americas, to Europe, to Asia. She is an artist with charisma, a creator of contemporary music with immense appeal. Her audiences in all corners of the globe appreciate the simplicity and beauty of her interpretation. She is without a doubt an outstanding representative of the music of Mexico.
—————————————
What: Natalia Lafourcade, Wednesday, May 23, at 8 p.m.
Where: The Theatre at Ace Hotel, 929 S. Broadway, Los Angeles 90015
Tickets: axs.com
Video Slider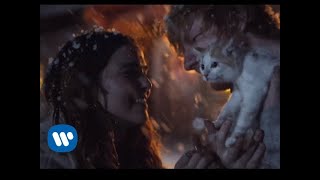 Win Tickets to See Ed Sheeran at the Rose Bowl
Ed Sheeran is back in Los Angeles, and your chance to see him perform is at the Rose Bowl in Pasadena on Saturday, Aug. 18. We are giving away complimentary tickets to the show. For a chance to enter to win, email us at
[email protected]
with "Ed Sheeran" in the subject line and tell us why you would like to go.