Win Tickets to See Marc Anthony at the Forum
Win tickets to see Marc Anthony at the Forum.
Marc Anthony is back in Los Angeles, and your chance to see him perform is at the Forum in Inglewood on Sunday, Oct. 8.
We are giving away complimentary tickets to the show.
For a chance to enter to win, email us at with "Marc Anthony" in the subject line and tell us why you would like to go.
This contest ends on Friday, Oct. 6 at 1 p.m.
More info on Marc Anthony
He has 26 Billboard chart hits like "Vivir Mi Vida" with more than 350 million views in you tube and "Flor Pálida," with more than 80 million views on Vevo. In May 2015 Marc Anthony received his second Vevo PL certification for 100 million views of his video "A Quien Quiero Mentirle". Marc holds the Guinness World Record for best-selling tropical salsa artist and the most number-one albums on the Billboard Tropical Albums year-end charts.
A New Yorker born and raised, the product of a music-loving Puerto Rican family, his parents named him Marco Antonio Muñíz in honor of the great Mexican balladeer of the same name. He began his recording career singing the English-language dance music known as freestyle, but he hit his stride between 1993 and 1997 with his first three salsa albums (Otra Nota, Todo a Su Tiempo, and Contra La Corriente). These productions established him as the top-selling singer in the history of the genre, able to sell out Madison Square Garden and prestigious venues internationally.
He received his first GRAMMY® in 1998 for Best Latin Tropical Performance for Contra La Corriente, followed by the first-ever Latin GRAMMY® Song of the Year award for "Dímelo"(I Need to Know) in 2000. With momentum from that hit single, Marc Anthony, his eponymous English-language album debut, went triple-platinum in the US, and helped usher in the Latin pop explosion of 1999-2000. In 2005 he received double best-album GRAMMYs® — Best Latin Pop Album for Amar Sin Mentiras, and Best Salsa Album for Valió la Pena.
In 2013, he released Marc Anthony 3.0, his first project of original music in the tropical genre in nearly a decade. The first single, "Vivir Mi Vida," which marked his reencounter with producer Sergio George, spent 18 consecutive weeks at #1 on Billboard, making it the longest-running #1 salsa single of all time. It received the Latin GRAMMY for Recording of the Year.
Marc Anthony is in constant touring demand. In September 2015, he kicked off Unido2, his international tour with Carlos Vives. The Vivir Mi Vida world tour, one of PollStar's top selling tours of 2013, was extended to May 2014 by popular demand, and received a Premio Juventud for Super Tour of the Year. Gigant3S, his US and Latin American tour with Marco Antonio Solis and Chayanne, topped 2012's Billboard Hot Latin Tours charts.
Marc Anthony has sold over 12 million albums worldwide, receiving numerous gold and platinum certifications from the Recording Industry Association of America (RIAA) along the way; been recognized by New York magazine as one of the Ten Most Influential New Yorkers; was inaugurated into the Billboard Hall of Fame in 2012, and given a Lifetime Achievement Award by the Congressional Hispanic Caucus Institute in Washington D.C. in September 2009. Marc has received a total of 29 Premio Lo Nuestro Latin Music awards and an Excellence Award, the most of any male solo artist. Since 2014 he's received the ASCAP Founders Award, twelve Billboard Latin Music Awards, three Billboard Awards, and other important recognitions.
Marc Anthony has also established a highly credible acting resumé: Campbell Scott and Stanley Tucci's Big Night (1996); Martin Scorsese's Bringing Out the Dead (1999); opposite Selma Hayek in the Showtime original film, In the Time of the Butterflies (2001); and with Denzel Washington and Christopher Walken in Tony Scott's Man On Fire(2004). He embodied Puerto Rican salsa legend Héctor Lavoe in the 2007 biopic El Cantante, directed by Oscar León Ichaso. On Broadway, he starred opposite Rubén Blades and Ednita Nazario in Paul Simon's The Capeman (1998).
A passionate football fan, Marc Anthony became a minority owner of the Miami Dolphins in 2009. In 2011, he returned to television on the TNT series Hawthorne, toured the U.S., and launched his line of clothes and luxury accessories for Kohl's, and together with Jamie King and Jennifer López, he produced the 2012 TV series ¡Q' Viva! The Chosen, which aired simultaneously on Spanish and English television in the US and Latin America.
In 2010, Anthony released Iconos, a Spanish language ballad album produced by Marc Anthony and Julio Reyes that included eight songs of his favorite Latin American balladeers and two original songs composed by him and Julio Reyes. The memorable eight tracks were made classic Latin American standards by Latin music stars like Juan Gabriel, José Luis Perales, José José, Roberto Carlos, y La Mafia. In Iconos, these tunes resurfaced fresh and relevant with Marc Anthony's incomparable style and emotional musical depth. Iconos occupied the number one spot in sales and radio play lists from Billboard Magazine for six consecutive weeks after launch and obtained a platinum position.
In January 2012 he announced the creation of his Foundation Maestro Cares with Henry Cárdenas, intended to address the housing, academic and health challenges that orphaned children face each day in developing Latin American countries. The non-profit organization opened its first orphanage to house children in urgent need, "Niños de Cristo," in La Romana, Dominican Republic on April 2, 2014, providing a home to more than 150 children; in April of 2015 open the doors to the "Monseñor Victor Tamayo" home in Barranquilla Colombia and joined the MABA project in Lima, Perú and on March 9th the foundation open the doors of "Casa Hogar Alegría in Cacalomacán, Mexico.
In April 2015, Marc Anthony announced the formation of a new, diversified entertainment company, Magnus Media, whose operating units will include an artist management company, music publishing, digital content creation, film & television, a music label, a sports division and an entertainment-centric marketing practice focused on leveraging the power of top Latino content creators in the U.S. and worldwide.
————————————————————————
What: Marc Anthony, Sunday, Oct. 8 at 7 p.m.
Where: The Forum, 3900 W. Manchester Blvd., Inglewood 90305
Tickets: ticketmaster.com
Video Slider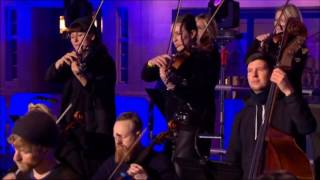 Win Tickets to See Pete Tong at Hollywood Bowl
Pete Tong is back in Los Angeles, and your chance to see him perform is at Hollywood Bowl on Thursday, Nov. 9. We are giving away complimentary tickets to the show. For a chance to enter to win, email us at
[email protected]
with "Pete Tong" in the subject line and tell us why you would like to go.