Win Tickets to Dita Von Teese's New Year's Eve Gala Show
Win tickets to Dita Von Teese's New Year's Eve Gala Show.
Dita Von Teese's New Year's Eve Gala Show is taking place in Los Angeles, and your chance to attend is at the Theatre at Ace Hotel in Downtown on Sunday, Dec. 31.
We are giving away complimentary tickets to the show.
To enter for a chance to win, email us at with "Dita New Year's Eve" in the subject line and tell us why you would like to go.
This contest ends on Thursday, Dec. 28 at 1 p.m.
More info on Dita Von Teese
Born Heather Sweet in West Branch, Michigan, Dita Von Teese grew up fascinated by the Golden Age of Cinema, pin-up imagery, and vintage lingerie. This naturally blond, mid-western girl transformed herself into a glamour girl like those she admired. Performing striptease since 1992, she is the biggest name in burlesque in the world since Gypsy Rose Lee and is credited with bringing the art form back into the spotlight with a new sense of elegance and sophistication.
Taking audiences on a journey into fantasy and spectacle, Dita is renowned for her ornate sets and dazzling haute-couture performance costumes lavishly adorned with hundreds of thousands of Swarovski crystals. This "Burlesque Superheroine" (Vanity Fair) is the performer of choice at high profile events including those for designers such as Marc Jacobs, Christian Louboutin, Louis Vuitton, Chopard, and Cartier. She was the first guest star in history at Paris' famed Crazy Horse, where she has performed several sold-out runs, including this year's "Dita's Crazy Show" to celebrate the iconic venue's 65th Anniversary.
Dita also brought burlesque to prime time television in the States when she appeared as a guest star on CSI and performed her classic Martini Glass show in one of their highest rated episodes to date which was billed as "too hot to handle."
In addition to her burlesque shows, Dita is a self-styled fashion icon, topping best-dressed lists all over the world. Featured on Vanity Fair's International Best Dressed List 2013, Dita has expanded into her own distinctive brands. Her lingerie collection debuted exclusively with Bloomingdale's in the U.S. in March 2014, and has expanded to other popular retailers such as Nordstrom, barenecessities.com, and Journelle, glamuse.com and Myer. She has a luxury gloves collection, a signature hosiery line and is soon to launch the world's first-ever striptease candle and a new fragrance with fellow aesthete Douglas Little.
Her New York Times Bestselling book, "Your Beauty Mark: The Ultimate Guide to Eccentric Glamour" (Dey Street Books/Harper Collins) is printed in several languages and is requisite reading for pin-up, burlesque and and fashion fans across the globe.
She served as the global ambassador for Cointreau from 2007-2013 and in 2010-2011, she was also the face of Perrier for an exclusive set of limited edition bottles and cans. An advocate in the fight against HIV and Aids, Dita was MAC Viva Glam Spokesperson from 2006-2008 and in 2009 she participated in the H&M/Fashion Against Aids t-shirt campaign. She has also performed and appeared at several events for Amfar and was honored with their Award of Courage in 2008. Her status as a burlesque star and modern-day feminist has also garnered her an invitation to speak at the Oxford Student Union, where other elected speakers have included the Dalai Lama, Mother Teresa, Tony Blair and Anna Wintour.
—————————————
What: Dita Von Teese's New Year's Eve Gala Show, Sunday, Dec. 31, at 9 p.m.
Where: The Theatre at Ace Hotel, 929 S. Broadway, Los Angeles 90015
Tickets: axs.com
Video Slider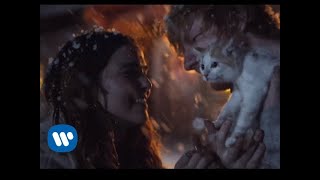 Win Tickets to See Ed Sheeran at the Rose Bowl
Ed Sheeran is back in Los Angeles, and your chance to see him perform is at the Rose Bowl in Pasadena on Saturday, Aug. 18. We are giving away complimentary tickets to the show. For a chance to enter to win, email us at
[email protected]
with "Ed Sheeran" in the subject line and tell us why you would like to go.