Win a Blu-ray + DVD + Digital Copy of Overboard
Win a Blu-ray + DVD + Digital copy of Overboard
Overboard stars Eugenio Derbez, Anna Faris, Eva Longoria, John Hannah, and Swoosie Kurtz, among others.

Overboard is available now on Digital and on Blu-ray Combo Pack (plus DVD and Digital), DVD, and On Demand July 31 from Lionsgate.

We are giving away Blu-Ray + DVD + Digital copies of Overboard.

For a chance to enter to win at random, please email us at with "Overboard 2018″ in the subject line and tell us why you would like to win. This contest ends December 31, 2018.

More info on Overboard
In a splashy new twist, Overboard focuses on Leonardo (Derbez), a selfish, spoiled, rich playboy from Mexico's richest family and Kate (Faris), a working-class single mom of three hired to clean Leonardo's luxury yacht. After unjustly firing Kate and refusing to pay her, Leonardo falls overboard when partying too hard and wakes up on the Oregon coast — with amnesia. Kate shows up at the hospital and, to get payback, convinces Leonardo he is her husband and puts him to work — for the first time in his life. At first miserable and inept, Leonardo slowly settles in. Eventually he earns the respect of his new "family" and coworkers. But with Leonardo's billionaire family hot on their trail and the possibility of his memory returning at any moment, will their new family last or will Leonardo finally put the clues together and leave them for good? Take home Overboard, Pantelion Film's highest grossing film to date, and go behind the scenes with the cast and crew with three featurettes and an audio commentary exclusive to the home entertainment release. The Overboard Blu-ray Combo Pack and DVD will be available for the suggested retail price of $39.99 and $29.95, respectively.
Video Slider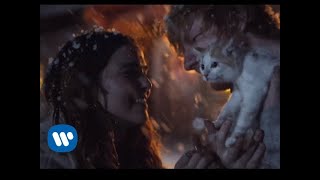 Win Tickets to See Ed Sheeran at the Rose Bowl
Ed Sheeran is back in Los Angeles, and your chance to see him perform is at the Rose Bowl in Pasadena on Saturday, Aug. 18. We are giving away complimentary tickets to the show. For a chance to enter to win, email us at
[email protected]
with "Ed Sheeran" in the subject line and tell us why you would like to go.