Who's Ready for the Smoke Me Out y Los Reyes del Corrido Festival at the Queen Mary in Long Beach?
The line up for this weekend's Smoke Me Out y Los Reyes del Corrido Festival at the Queen Mary in Long Beach. (Courtesy image)
When Dr. Dre and Snoop Dogg's "Up In Smoke" Tour hit the road in 2000, few could've imagined we'd one day see a similarly themed music festival featuring regional Mexican music.
But sure enough, the Smoke Me Out y Los Reyes del Corrido music festival will take place this Saturday, Aug. 18 at the Queen Mary in Long Beach. With artists like Banda Los Recoditos, Legado 7, Enigma Norteno, a special appearance by Regulo Caro and many more groups, the S.M.O. Fest will be one of the great music events of the summer in southern California.
This will be Regulo Caro's second consecutive weekend playing in his adoptive hometown of greater Los Angeles, having played a sold-out Pico Rivera Sports Arena this past Sunday in 2 Mundos Una Historia alongside Gerardo Ortiz and Pancho Barraza, among others. He will be playing songs from his latest album, Mi Guitarra y Yo, which came out earlier this year, as well as all the hits and crowd favorites.
Unlike Caro, who isn't overtly 4:20-friendly in his style or music, Legado 7 are one of the most famously 4:20-friendly acts in regional Mexican music. The artwork on their latest album, Pura Lumbre, looks like an ode to reggae music but has the same fast-paced, catchy corridos that have made them crowd favorites among young corridor fans.
But if great corridos aren't enough to bring you to a music festival, one of the best artists in banda music, Banda Los Recoditos, will be co-headlining the music festival. With hundreds of millions of Spotify plays that feature classics such as "Me Sobraras Tu," "Ando Bien Pedo" and "La Escuelita," their lively, upbeat live performances are contagious and a great way to wrap of any music festival.
Other notable acts playing are Roberto Tapia, Los Nuevos Rebeldes, Los Alegres Del Barranco, Omar Ruiz, Hijos De Barron, Hijos de Leyva, Noel Torres, El De La Guitarra, Los Hijos de Garcia, Arsenal Efectivo, Fuerza Regida, Christian Felix and Maximo Grado, as well as a few surprise guests. Come thirsty and come hungry, as you'll be surrounded by many choices for mariscos and micheladas.
Tickets for Smoke Me Out y Los Reyes del Corrido Music Festival are still available on AXS.com or by going to smokemeoutfest.com. They range from $85 to $150 for general admission and VIP, but there are also lavish packages that include bottle service and a private, all-inclusive VIP cabana for as much as $4,500.
The Queen Mary is located at1126 Queens Hwy., Long Beach, CA 90802.
Video Slider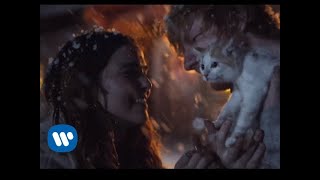 Win Tickets to See Ed Sheeran at the Rose Bowl
Ed Sheeran is back in Los Angeles, and your chance to see him perform is at the Rose Bowl in Pasadena on Saturday, Aug. 18. We are giving away complimentary tickets to the show. For a chance to enter to win, email us at
[email protected]
with "Ed Sheeran" in the subject line and tell us why you would like to go.