What We Love About the Activité Pop Watch
The Activité Pop Watch is stylish and functional for all fashion and fitness mavens.
Ditch the clunky fitness tracker bands and swap them out for this sleek and chic wearable watch that can both tell you the time and track your fitness needs.
Goal Setting – With the Withings Activité Pop, you can track steps, calories, sleep and even your swim strokes. It counts your moves for you while you're on the go or during your work-out sesh in the gym. It's a helpful health minder to keep you on track. You can even challenge your friends and participate in leader boards that mark all your progress together.
Stylish – Available in a variety of colors, including a coral pink this month for Breast Cancer awareness, this watch is simply the cutest. Whether you wear it with your work-day outfits or with workout clothes, the wristlet matches any combo. I love the pastel colors, especially the blue one, it's subtle yet makes a statement and doesn't draw attention like the weird clunky fitness bands that look more sci-fi than fashionable. It's created by Parisian designers with backgrounds in watch making, so of course it's super on fleek.
Sleep Tracker – Everyone knows that a good night's rest is essential to better lifestyle choices. The Pop Activité monitors your sleep to help you get just enough zzz's while encouraging you to start your day in a less abrupt way than a normal alarm clock. It has a gentle wakeup vibration that eases you into the morning.
Easy to Use – Its glass encasing reacts to tapping to go through the different modes. There's smart-touch detection, which based on movements goes into whatever mode you're in, so while you're walking it's at rest and when you're jogging it automatically goes into sports mode. It's iOS7 compatible or higher for iPhone users and comes with free health mate mobile and web apps.
For more information, visit www2.withings.com/us/en/products/activite-pop.
Video Slider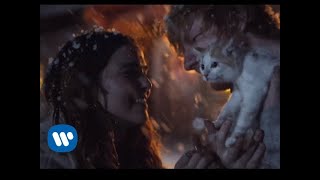 Win Tickets to See Ed Sheeran at the Rose Bowl
Ed Sheeran is back in Los Angeles, and your chance to see him perform is at the Rose Bowl in Pasadena on Saturday, Aug. 18. We are giving away complimentary tickets to the show. For a chance to enter to win, email us at
[email protected]
with "Ed Sheeran" in the subject line and tell us why you would like to go.