We The Animals Star, Sheila Vand Connects to Newest Role
Evan Rosado and Sheila Vand in We The Animals (Tayarisha Poe)
With the release of her new film, We The Animals, only days away, actress Sheila Vand discussed the process of it and what peaked her interest when it came to taking the role.
Based on the novel of the same name, We The Animals is directed by Jeremiah Zagar and stars Vand, Evan Rosado, Raúl Castillo, Isaiah Kristian and Josiah Gabriel and will be released on Aug. 17.
It tells the story of Manny (Kristian), Joel (Gabriel) and Jonah (Rosado) and their childhood dealing with the volatile love of their parents, While Jonah creates a world of his own imagination, the other two become like Ma (Vand) and Paps (Castillo) and their dream of escape.
While Vand hadn't heard of the book prior to being pitched the role, as soon as she found out it was based on a novel she felt it was more thoughtful, she said.
"I think it's so cool to play a part that existed before me because I've never done that before," Vand said.
"I actually didn't read the book until I got the script because I was so obsessed with it that I didn't want to fall in love with it before I got the part, because I knew if I didn't get the part I would've just been completely heart broken."
"The second I got the part I read the book and it was just as brilliant as the script," she continued.
Vand's character, Ma, is a very delicate woman who doesn't hold much in, the actress stated.
In playing the role, she said the biggest challenge was keeping her energy at the same emotional level, as the character required was actually painful at times.
"She's [Ma] written as a "gusher" a "rambler", a "confused goose of a woman". That's actually one of my favorite ways that the book describes her." Vand said.
"She's trying to figure it all out and she walks around with tears in her eyes."
"I'm the type of person that likes to fully embody a character and not just turn my feelings on and off like a switch, I actually cant."
Vand easily related to Ma's sensitivity as she is also very emotional and was able to understand the fire and spirit of the character.
Of working with the children in the film, the actress said it was great and quite an experience as they were street casted and had never previously acted.
"They were quite natural at it. Their energy was pure and curious and they were very rambunctious and game for the process which was amazing," she said.
"They got to do all sorts of things in this film that they don't get to do in real life, they got to curse and smoke cigarettes and wild out and I think they had fun with that."
When detailing working with Castillo, she had nothing but praise for the actor and their connection over their theater background.
Both worked to depict the volatile relationship of their characters and to show how their chemistry kept them in a constant cycle.
With compassion as the number one theme for Vand, she said she hopes the film will help young LGBT kids know that there is a community for them.
"I also connect to the plot that you have to separate from family to sort of become your own person no matter what your identity which is often the case," she explained.
"Especially for artists, like Jonah, he's not only becoming of age because of his sexuality, I think he's becoming of age as an artist because of his drawing as well."
While summer is the time for block busters, Vand says she hopes audiences will make their way to theaters to see the film as it will touch their hearts.
We The Animals will be released on Aug. 17, meanwhile, Vand can be seen in the film, Vulture Club out this October.
Marvin Vasquez and Joelly Vazquez contributed to this story.
Video Slider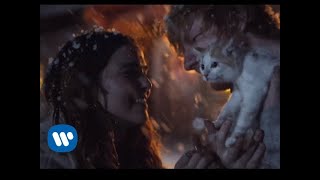 Win Tickets to See Ed Sheeran at the Rose Bowl
Ed Sheeran is back in Los Angeles, and your chance to see him perform is at the Rose Bowl in Pasadena on Saturday, Aug. 18. We are giving away complimentary tickets to the show. For a chance to enter to win, email us at
[email protected]
with "Ed Sheeran" in the subject line and tell us why you would like to go.