Watch This: Years & Years' "Desire (Gryffin Remix)" Is a Gorgeous Music Video
A still from Brian Harrison's video for Years & Years' "Desire (Gryffin Remix)"
London-based electronica group Years & Years has one of the most innovative music videos we've ever seen in their artistic collaboration with director/editor Brian Harrison on "Desire (Gryffin Remix)."
This artistic endeavor combines just the kind of music you would mash with the innovative Artificial Intelligence system that operates as a neural network and filters through data – or visuals in this case – and creates a model of the world in the fabric of everything you see. Transforming not only the most practical of scientific uses but also allowing for a more authentic – not to mention artistic – human and machine collaboration. So far we're getting along with AI. That's great!
Called 'Creative Artificial Intelligence,' the newest application of machine learning generates lush art and design. The way that greenery is transformed into shapes of other objects is mind blowing. It gives Artificial Neural Networks one heck of a trip through painting, dreaming, hallucinating and giving them the intelligent design of creative tasks.
The music video creation by Harrison – whose thematic works center around human consciousness, perception and information – reveals the perfect counterpart in Harrison to take viewers on the sensory stimulating trip. The exploration, the first of its kind, pushed the technology forward and used the "DeepDream" to piece together the kaleidoscope landscapes you see in the video for Years & Years' "Desire (Gryffin Remix)."
To get technical, the composition comes from image recognition which was the basis for DeepDream, an open-source artificial neural network that can be used for things such as advanced face recognition software. Trained on millions of images, these networks can pull and learn to recognize 1,000-plus categories of objects. Say, an apple or a dog – it can identify things like that. It seriously allows the network to dream about what its previously learned. It's crazy, I know. The end result is a stunning stream of images that unbelievably came from an artificial mind.
You could never tire of watching "Desire (Gryffin Remix)" and can always find something new in the amazing feat Harrison has created with some of the first creative AI technologies. It's a whole new frontier as researchers and innovators explore the possibilities of human and AI interaction and collaboration for good and new artistic expression among artists and filmmakers. Let's hope this shared consciousness leads to the opposite of Skynet and Ultron and gives humanity a new Vision.
Video Slider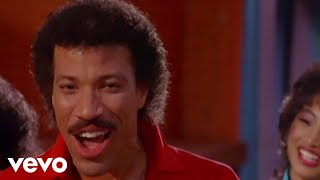 Win Tickets to See Lionel Richie at Hollywood Bowl
Lionel Richie is performing with very special guest Mariah Carey on the All the Hits Tour, and your chance to see them is at the Hollywood Bowl on Monday, July 31.