Warriors Are Unstoppable
The Golden State Warriors have won their 10th game in a row in the postseason, and threaten to swipe the San Antonio Spurs in the Western Finals of the NBA. An outstanding performance of Stephen Curry allowed the Warriors to win their second game of the series 136-100. They will be shifting to San Antonio for games 3 and 4 of this series, hopping to change their luck.
Most experts say that the Spurs will have it hard to turn the tables, since game 2 was the match were they allowed the most amount of points in their playoffs run. Kevin Durant told ESPN before the game that "we can´t allow them to get off to the start they had last game. We have to be the aggressors", and they really were.
Stephen Curry had a great night and did what he does best: 3-pointers. He ended game 2 coring four of his six shots from outside, and 15 out of his 29 points. At the end of the first quarter, the Warriors led 33-16. A good summary of the first 12 minutes is the fact that the whole Spurs scored only one more point than Curry.
"We started the game with a lot more energy and focus on the defensive end, so that we could just feel a little bit better about ourselves than we did last game in the first quarter", Curry emphasized. The impressive score of the Point Guard has its statistic fundament, he scored at least one of his 3-pointer in all 68 of his postseason games, hitting an NBA record. His momentum is so outstanding that he´s averaging 33 points in the past three games. He shot 57 percent from the field and 49 percent from long distance.
Even when the odds are clearly against them, the Spurs are trying a few options to counter their recent injuries. They tried one of their best players, LaMarcus Aldrige, but as Popovich said after his second-worst defeat of his post-season career: "LaMarcus has to score for us", and added that "he can´t be timid. He turned down shots in the first quarter, he can´t do it, you have got to score, and scoring has to come from some place". Most bookies say that the Spurs will lose the finals, you can check out the latest NBA odds here.
This led to a "timid" 37 percent shooting for San Antonio, as Golden State shot 56 percent. The only light in the Spurs darkness came from Jonathon Simmons, scoring the team-high 22 points. Popovich opted to play his younger team members, there wasn´t much to do. The Warriors continued to capitalize, specially from non-forced mistakes and three-points plays after unnecessary fouls.
"I don´t think they believed, and you have to believe. I don´t think as a group they really did, which means probably a little bit feeling sorry for themselves psychologically", Popovich said. "That was disappointing", added a really sad coach. In other hand, the Warrior´s head coach said that he doesn´t want to hear about this series not being a fair fight with Leonard out of the Spurs´ lineup.
Video Slider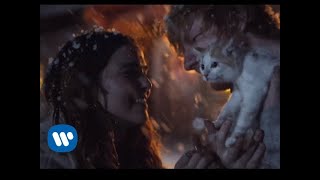 Win Tickets to See Ed Sheeran at the Rose Bowl
Ed Sheeran is back in Los Angeles, and your chance to see him perform is at the Rose Bowl in Pasadena on Saturday, Aug. 18. We are giving away complimentary tickets to the show. For a chance to enter to win, email us at
[email protected]
with "Ed Sheeran" in the subject line and tell us why you would like to go.