Viver Brazil Celebrates 15 Years with "Intersections/Ajê" at the Ford
Los Angeles and Salvador, Bahia intersect with an evening of jubilant Afro-Brazilian dance, live percussion and lilting vocals under the stars at the Ford. Viver Brasil celebrates its 15th anniversary with "Intersections/Ajê," a program of exuberant sambas, pulsing maracatus and forrós, and exotic orixá tales of love and intrigue at the Ford Theatres on Saturday, July 27 at 8:30 pm.
Firmly rooted in both the traditional and contemporary forms and techniques of Bahia, Viver Brasil's work embodies the beautiful and mythic stories of Afro-Brazilian culture, complete with colorful costuming and an energetic troupe of dancers, drummers and singers. Intersections/Ajê celebrates Viver Brasil's many milestones — its 15th anniversary; its 10th year at the Ford and its unique place in the contemporary world culture of Los Angeles.
"We're celebrating 15 years, but we're always looking forward," said co-founder/co-artistic director Linda Yudin in a prepared statement. "Viver Brasil uses both traditional and contemporary Afro-Brazilian dance languages and music as its inspiration. Now, in our 15th year, we are re-energized, staying fresh and expanding the way we work, cultivating new talent and presenting exciting choreography that incorporates all these styles, languages, conventions and terminology."
"Aqueous" (2013), choreographed by longtime Viver Brasil company member Dani Lunn, explores the essence and qualities of water and our relationship and responsibility to this grand force of nature. Inspired by the vast movement repertoire of the orixás, these spirited energies propel Lunn's lush choreography and salute the grand relationship between the physical and spiritual worlds that inspire Viver Brasil's Afro-Brazilian dance and music.
"Paraxaxá" (2013), choreographed by Viver Brasil company veteran Shelby Williams-Gonzalez, uses northeastern dance and music language to create a funny and irreverent new work that explores the infamous petticoat — that bulky and uncomfortable costume piece reflecting power and wealth that was integrated into the Afro-Brazilian Candomblé tradition during colonial times, and which is a staple of many of Viver Brasil's costumes — as a metaphor for the bulkiness of racism and the melding of Brazil's diverse cultural influences. The piece celebrates Viver Brasil as an Afro-Brazilian dance theater company of diverse faces in our global home, L.A.
Viver Brasil will revisit "Mothers and Sons" (2006), with choreography by internationally renowned choreographer Rosangela Silvestre and original music composed by José Ricardo Sousa — a vibrant tale of love, betrayal and rejection that is based on the orixá stories of Nanã, the primordial mother who is responsible for sculpting the human form, and the tale of her sons: Omolu, the orixá of health and sickness whom she rejected and gave to Yemanja, the ocean element and mother of all orixás, who adopted him; and Oxumarê, the serpent element on the earth and the rainbow element in the sky, who escaped from his mother's grasp after birth.
"Maracatu Viva Viver Brasil," choreography by Luiz Badaró, celebrates Viver Brasil's love for the art of syncopated Brazilian processions, carnival and the royal dance of kings and queens from the city of Recife where Maracatu was developed.
And, closing out the evening, "SAMBA!," with new choreography by Lunn, rejoices in 15 glorious years of Bahia, the birthplace of samba de roda, samba reggae and samba afro, where tradition and contemporary join to celebrate all things Afro-Brazilian.
Intersections/Ajê takes place on Saturday, July 27. Doors open at 6:30 pm for picnicking, and the show starts at 8:30 pm. General admission is $40; full-time students with ID pay only $20 and children ages 12 and under are $12. Purchase tickets by July 20 and save $5. Tickets are available at www.FordTheatres.org or 323 461-3673 (for non-visual media 323 GO 1-FORD). To learn about discounts for groups of 8 or more, please call 323 769-2147.
Video Slider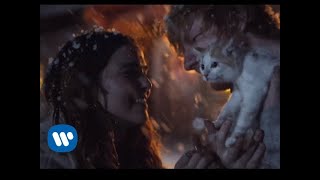 Win Tickets to See Ed Sheeran at the Rose Bowl
Ed Sheeran is back in Los Angeles, and your chance to see him perform is at the Rose Bowl in Pasadena on Saturday, Aug. 18. We are giving away complimentary tickets to the show. For a chance to enter to win, email us at
[email protected]
with "Ed Sheeran" in the subject line and tell us why you would like to go.