Visit the Derek Zoolander Gas Station Memorial in Anticipation of Zoolander No. 2
The Derek Zoolander Gas Station Memorial For Models Who Were Killed By a Freak Gasoline Fight Accident (Sabina Ibarra/LOL-LA)
In honor of the fallen models who were killed by a freak gasoline fight accident, former roommate and supermodel Derek Zoolander has commissioned a memorial for his friends. The Derek Zoolander Gas Station Memorial For Models Who Were Killed By a Freak Gasoline Fight Accident is now open in the parking lot across from Swingers at the corner of Beverly Boulevard and Laurel Avenue. Fans of the young models gone too soon can stop and hold vigil or take pictures at the gas station photo-op in honor of Meekus, Rufus and Brint.
AMP 97.1 the radio station will be spinning the tunes of the late models loved. A playlist not doubt curated by sole survivor Derek Zoolander, the ridiculously good looking model who went on to carry their legacy with his signature Blue Steel. The playlist includes the song they went out in a blaze of glory to, Wham's "Wake Me Up Before You Go-Go."
Derek could not be reached for comment but has contributed greatly to this memorial. He even added the special touch of having Orange Mocha Frappuccinos available at the memorial in commemoration of their favorite coffee-shop drink.
The memorial can be visited from 11 a.m. to 4:30 p.m. through Feb. 11.
Zoolander No. 2 is in theaters Feb. 12.
Video Slider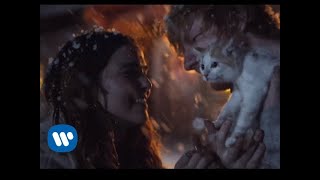 Win Tickets to See Ed Sheeran at the Rose Bowl
Ed Sheeran is back in Los Angeles, and your chance to see him perform is at the Rose Bowl in Pasadena on Saturday, Aug. 18. We are giving away complimentary tickets to the show. For a chance to enter to win, email us at
[email protected]
with "Ed Sheeran" in the subject line and tell us why you would like to go.