Vernetti: Heaven on Earth for Foodies
The Linguine Alla Vongole at Vernetti features Manila clams, white wine, garlic and crushed red pepper.
When picking a restaurant to go to, we typically just choose based on ratings. Well, ratings and price range.
Imagine a restaurant with mouth-watering meals, lovely decor, prices that please your wallet and, wait for it, the most aesthetically pleasing website. The layout, fonts, photos … everything is pretty!
Font nerds, brace yourselves. We'll wait. Seriously, head over to vernetti.la.
Now that you've retuned from checking out the site and agreeing with everything we've said, let's get down to the food. Brunch, lunch, dinner and dessert – they have it all. A Two Cheese Omelette, Caramelized French Toast, Spaghetti Con Polpette and Rigatoni Con Salsiccia are just a few of the items offered.
Now that we've made you hungry (sorry, not sorry), below is an interview with chef and owner, Steve Vernetti.
Living Out Loud – Los Angeles: Discuss the overall concept for the menu.
Steve Vernetti: Our menu reflects a mix of traditional dishes and some more innovative takes on Italian-American cuisine. We want the food to be approachable by everyone. We try to convey that simplicity exists in the description and in the presentation, as well as in the execution of the food.
LOL-LA: What about the venue itself and the area it is in?
S.V.: Larchmont Village is a great neighborhood. We feel very fortunate that we were able to open Vernetti right in our own community.
My wife, Joanna, did the interior design of the restaurant. She did a great job combining old-world charm with a modern look. David Thompson of Assembledge was our architect on the project.
LOL-LA: I especially loved the Gnocchi di Spinaci and panna cotta items. Can you share a little about each item?
S.V.: They are a traditional florentine gnudi or malfatti, which means literally poorly shaped, made with fresh spinach and our housemade ricotta. They are simple, very delicate and made fresh before every service.
The panna cotta is very traditional, but a key to having a great dish is using the perfect strength gelatin. Too strong and the dessert is like eating dense jello; if you use a light gelatin then the dessert won't mold, and you have a mess. We don't oversweeten the panna cotta so that our sauce can provide the perfect balance.
LOL-LA: The service and item presentations were at their best when I was there. Do you pride yourself on that?
S.V.: We always want our customers to feel special and to feel at home when they are at Vernetti, so service and presentation is very important to us.
LOL-LA: You mention the liquor or beer/wine license is coming soon to your establishment. Exactly when and exactly what will be offered?
S.V.: We will offer beer and wine. We were just approved at our hearing and should be able to serve beer and wine within a few weeks. We have been hard at work selecting some wonderful Italian wines.
Vernetti is located at 225 N. Larchmont Blvd., Los Angeles. Brunch hours are 9 a.m. to 3 p.m. (Saturday & Sunday). Lunch is served from 11:30 a.m. to 2:30 p.m. (Tuesday through Friday), and dinner is from 5:30 p.m. to 11 p.m. (Tuesday through Sunday). For more information, visit vernetti.la.
Video Slider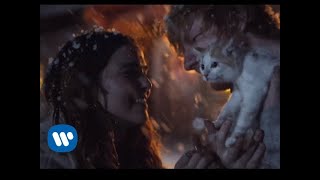 Win Tickets to See Ed Sheeran at the Rose Bowl
Ed Sheeran is back in Los Angeles, and your chance to see him perform is at the Rose Bowl in Pasadena on Saturday, Aug. 18. We are giving away complimentary tickets to the show. For a chance to enter to win, email us at
[email protected]
with "Ed Sheeran" in the subject line and tell us why you would like to go.