Vegas' Absinthe brings a 'Cirque du Debauchery' to L.A.
All photos from Las Vegas production of Absinthe. Individual acts and artists subject to change at each performance.
Las Vegas sleazebag, the Gazillionaire, host of the hit Caesar's Palace alternative circus Absinthe, has one thing on his mind as he prepares to bring his intoxicatingly vulgar and twisted production to Los Angeles' L.A. Live for a five-week run: cold, hard cash.
"People seem to like the show, so that's nice. I guess," he scoffs in a gruff, whiskey-and-chain-smoked voice. "For me, it's the money. I mean, shit, come on. What's the point, right?"
Thankfully, this is all part of former Cirque du Soleil performer Voki Kalfayan's the Gazillionaire act that has made Absinthe one of the fastest-growing premier Vegas shows on the Strip since it debuted at the famed Las Vegas casino in 2011.
Described quite mildly by The New York Times as "Cirque du Soleil as channeled through The Rocky Horror Picture Show," the alternative circus is a loud, raunchy, in-your-face thrill ride of acrobatics, contortionists and other handpicked, international and underground acts that will be featured in the show's limited L.A. engagement, starting March 22 at L.A. Live.
"Rocky Horror is great, but I think we push a little harder than The Rocky Horror Picture Show does," the Gazillionaire boastfully exclaims. "The Cirque du Soleil reference? Eh … you know, from what I gather, they've done one or two good shows, and they spend a shit ton of money. So if we're being compared to that, I'll take it!"
The Gazillionaire adds that the biggest difference between Absinthe and Cirque du Soleil is not just in style, but the overall experience for the crowd.
"The biggest thing that's different about our show than all the other shit that's out there is that we pride ourselves on engaging the audience," he says.
The artists of Absinthe perform on a small, nine-foot diameter stage as the audience sits about three feet away from the action. Along with the Gazillionaire's wry brand of provocative comedy that often cracks jokes at the expense of the audience and drags them up on stage, Absinthe is much more of an interactive experience than its Vegas competitors.
"There's no complacent sitting back and watching some shit happen way up on some stage," the Gazillionaire says. "We're all in the same room together doing it at the same time."
Celebrities have even been known to make special appearances at Absinthe. In 2015, Magic Mike star Channing Tatum gave one lucky woman a free lap dance after the Gazillionaire challenged two men to do a "lap-dance-off."
"Every night it's somebody new," the Gazillionaire says, rattling off more names, such as Foo Fighters' Dave Grohl, skateboard legend Tony Hawk and Neil Patrick Harris among celebrities who have experienced Absinthe.
The Gazillionaire hopes that bringing Absinthe's unique stage show to the entertainment capital of the world will help draw even more star power for him to exploit for the sake of the show.
"These celebrities got a lot of money, and they don't know how to fucking spend it," he snarls. "So I thought, 'let's go to Los Angeles and take as much of their money as we possibly can!'"
The performance schedule is Tuesdays and Wednesdays at 7:30 p.m.; Thursdays, Fridays and Saturdays at 7:30 p.m. and 9:30 p.m.; and Sundays at 5:30 p.m. and 7:30 p.m.
There will be a full bar and vendors present, but food items might be hard to come by, as the Gazillionaire calls food "just a waste of space in the stomach for alcohol."
Tickets for the Vegas production begin at $99 all the way up to $140 plus tax, but for someone who thinks only in dollars and cents, the Gazillionaire promises a more affordable range starting at $59 for the L.A. shows.
"We wanted to make sure that we could make it accessible to people who may not see a show like this and take a risk and come check it out," he says. "I think once they see it, they'll be changed forever."
As far as what to expect by bringing this "extraordinary, most expensive" show to Los Angeles, even someone with a wildly vulgar mind like the Gazillionaire doesn't know what is in store.
"Every night is fucking chaos. The [Vegas] show changes every night because the audience is different every night, and just weird shit happens," he says.
"I do this act where I bring up a couple audience members," he recalls, "and one time somebody showed their dick, so, you know… shit happens," he grossly laughs.
But that's all in a day's work for the "filthy rich and just plain filthy" the Gazillionaire, who even despite dealing with the occasional onstage penis flash, still believes his twisted and vivid stage show is something that you have to see to believe.
"It's the greatest fucking show, the greatest theatrical experience you'll ever fucking have in your entire life," he says. "I guarantee it!"
With a promise like that, what could possibly go wrong?
For tickets and more information, visit absinthela.com.
Video Slider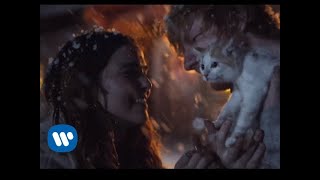 Win Tickets to See Ed Sheeran at the Rose Bowl
Ed Sheeran is back in Los Angeles, and your chance to see him perform is at the Rose Bowl in Pasadena on Saturday, Aug. 18. We are giving away complimentary tickets to the show. For a chance to enter to win, email us at
[email protected]
with "Ed Sheeran" in the subject line and tell us why you would like to go.