Universal Studios Hollywood is Hiring
The race is on as Universal Studios Hollywood casts a wide net in search of Studio Tour guides as the theme park prepares to introduce "Fast & Furious—Supercharged," the new grand finale to the world-famous Studio Tour and the all-new "Nighttime Studio Tour" this summer in celebration of the theme park's 50th anniversary.
Open call auditions will take place at Universal Studios Hollywood on May 4 from 2-4 p.m.
As one of the most progressive and exciting theme park experiences anywhere, Universal's Studio Tour invites guests to enjoy a front row seat with behind-the-scenes access to one of the world's largest movie and television production studios, led by expert Studio Tour guides, knowledgeable on the inner-workings of Hollywood.
As the destination readies for a blockbuster summer with the introduction of the "Fast & Furious—Supercharged" thrill ride and the "Nighttime Studio Tour," more than 40 English, bilingual Spanish and Mandarin-speaking Studio Tour Guides will be hired to join an existing roster of nearly 100 guides.
Candidates interested in auditioning must possess the following attributes for consideration: friendly, engaging and enthusiastic; have a performance and/or public speaking background; are knowledgeable of film and television; have a charismatic live television camera presence; and must be at least 18 years of age.
They will need to come prepared with a resume and headshot and be available for a series of follow-up auditions on May 6 and final interviews the week of May 11. Full-time employment will begin on May 26, beginning with three weeks of fun, intensive training. For more information, please visit www.UniversalStudiosHollywood.com/auditions.
The perks associated with the role of Studio Tour guide are also priceless. Aspiring actors and those seeking to work within the entertainment industry will have daily access to an authentic studio lot, and the filming locations of thousands of movie and television shows. In addition to enjoying a flexible work schedule, Studio Tour Guides will benefit from a variety of opportunities, including intimate symposiums with prestigious industry professionals, free professional acting classes, auditions for top industry casting directors and free private screenings of Universal Pictures films.
"Fast & Furious—Supercharged" is a technologically advanced, epic ride that reunites stars from the Fast & Furious series in a groundbreaking mega-attraction designed to catapult guests into the high-stakes underground world of street racing at perceived speeds in excess of 120 miles per hour. Featuring Vin Diesel (Dominic "Dom" Toretto), Dwayne Johnson (Luke Hobbs), Michelle Rodriguez (Letty Ortiz), Tyrese Gibson (Roman Pearce) and Luke Evans (Owen Shaw), "Fast & Furious—Supercharged" will debut on June 25 as the grand finale to Universal Studios Hollywood's behind-the-scenes Studio Tour and can only be experienced at The Entertainment Capital of L.A.
For the first time ever, Universal Studios Hollywood's all-new "Nighttime Studio Tour" will bring over 20 locations along the famed Studio Tour backlot to life with movie set lighting and special effects used in nighttime productions. Theatrical lighting will cast a glow on iconic backlot sets as Studio Tour guides shed light on Hollywood secrets and tricks of the world's most glamorous trade, including how filmmakers create the effect of daylight amid the black of night. Celebrated stars who found fame on Universal's backlot will also make cameo appearances on the "Nighttime Studio Tour," including Marilyn Monroe, Norman Bates and Frankenstein. The "Nighttime Studio Tour" will run every weekend throughout the summer from July 4 through Labor Day.
For more information visit, www.UniversalStudiosHollywood.com, and for all the latest news, "Like" us on Facebook, follow us on Instagram and Twitter at @UniStudios
Universal Studios Hollywood, The Entertainment Capital of L.A., includes a full-day, movie-based theme park and Studio Tour; the CityWalk entertainment, shopping and dining complex, the Universal CityWalk Cinemas and the "5 Towers" state-of-the-art outdoor concert venue. World-class rides and attractions include "Despicable Me Minion Mayhem" and "Super Silly Fun Land," the critically-acclaimed mega-attraction, "Transformers™: The Ride-3D," the intense, award-winning ride, "King Kong 360 3-D" on the behind-the-scenes Studio Tour, "Revenge of the Mummy—The Ride" and "Jurassic Park —The Ride."
As part of its milestone 50th anniversary celebration in 2015, new attractions include the electrifying 3D-HD thrill ride, "Fast & Furious—Supercharged" as the grand finale to the famed Studio Tour, "Springfield," hometown of America's favorite TV family, adjacent to the award-winning "The Simpsons Ride" and the "Nighttime Studio Tour," offering tours of the iconic movie backlot on select evenings.
Video Slider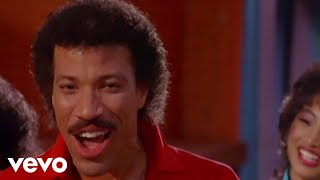 Win Tickets to See Lionel Richie at Hollywood Bowl
Lionel Richie is performing with very special guest Mariah Carey on the All the Hits Tour, and your chance to see them is at the Hollywood Bowl on Monday, July 31.