Two CRSSDs, One Year – Bi-Annual CRSSD Fest Hits SD Again This Fall
The Flaming Lips are just one of the headliners for the fall CRSSD Festival Oct. 10 and 11 in San Diego.
An annual music festival is one thing, but who does twice per year? Two weekends in a row, that's understandable, but two separate festivals in a year? That's just ambitious, from all perspectives. First off, putting on two festivals in a year, in itself, is probably a headache. But then you also need the cooperation of the city that is hosting you, in addition to making both lineups so appealing that you'll be able to draw a crowd at both events.
So it shouldn't be surprising that the ever-ambitious Goldenvoice, the massive concert producers who bring you Stagecoach and Coachella, are behind the second installment of what will be the now bi-annual CRSSD Fest in downtown San Diego, on Oct. 10 and 11 at Waterfront Park.
This announcement has come as a very pleasant surprise for many San Diegans still reeling from the overwhelming success of the first CRSSD Fest that happened back in spring with headliners Empire of the Sun. The show was an unexpected, low-hype, elbow-room affording, bayside music-lovers party complete with a fountain that you could cool off in, and one of the most progressive lineups that San Diego (a town that consumes primarily pop, country and, for some reason, a lot of grunge still) has seen in quite some time.
The lineup for the fall installment of CRSSD is just as progressive, and perhaps even more exciting. A lot of this has to do with Goldenvoice's partners for this festival, who include MixMag and KCRW, entities both known for seeking and further developing talent that is only cresting into the mainstream.
The lineup for CRSSD this fall is packed with acts that include the Flaming Lips, TV on the Radio, Maya Jane Coles, Bonobo, Jamie XX and Todd Terje, but those are just the headliners. The real talent for this show is in the smaller print below the headliners, with the exception maybe of the Flaming Lips and Jamie XX. Bonobo is amazing live, with the whole band, but his DJ sets are kind of … meh.
But we digress! Look to make time for acts like St. Lucia, or Gallant, or Claptone, or Hayden James. Another big one that CRSSD is bringing to the table is a DJ set for Giorgio Moroder, who is one of the pioneers of electronic music. Originally a DJ/producer in the '70s, Moroder's name had become obscure; relegated to the pages of contemporary music textbooks, and the record collections of electronic music aficionados. That is, of course, until he was featured on Daft Punk's 2013 album Random Access Memories. Now everybody knows the guy. Go see his set while he's still on his second wind, and before he gets too old.
So anyways, it's gonna be a good show. It's 21 and up, though. So keep that in mind. Although if you're under 21, you probably have homework to be doing anyways, so why not just forget about the show and take that weekend to study for finals, midterms or whatever.
For those of you that can go, you should get stoked. Hopefully this lovely weather we're having will hold out 'til then. Oh, and parking sucks down there. Take the trolley.
For tickets and more information, visit crssdfest.com.
Video Slider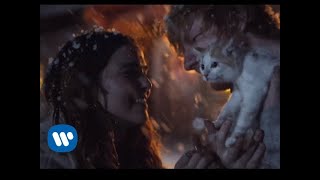 Win Tickets to See Ed Sheeran at the Rose Bowl
Ed Sheeran is back in Los Angeles, and your chance to see him perform is at the Rose Bowl in Pasadena on Saturday, Aug. 18. We are giving away complimentary tickets to the show. For a chance to enter to win, email us at
[email protected]
with "Ed Sheeran" in the subject line and tell us why you would like to go.