Travis Barker's MUSINK Festival Arrives at the OC Fair & Event Center on March 16-18
blink-182 headline this year's MUSINK at the Orange County Fair and Events Center in Costa Mesa. (Courtesy photo)
Renowned for his musical talents and his love of body ink, iconic drummer Travis Barker has transcended the genre of rock with blink-182.
This is why MUSINK, now in its 11th year, has carried his name for over a decade to bring a diverse set of artists (musical as well as tattoo artists) to Southern California. MUSINK, which will take place at the Orange County Fair and Events Center in Costa Mesa, CA Friday, March 16 through Sunday, March 18, has been curated by Barker, which means there's a little something for everyone.
"Every year we have more and more fun," says Barker of MUSINK. "This year I am excited to announce blink-182, The Descendents, Lil Yachty, MGK and more. Super stoked for all the fans to come out for a great time of music, cars, and tattoos."
A big upside is the way ticket sales are set up. With many music festivals, you only have the option to buy a three-day pass, regardless of who you care to see. With MUSINK, $99 gets you a general pass for all three days, or, you can pay $29.50+ to see The Descendants, Fear and Strung Out on Friday; $59.50+ to see blink-182, Good Charlotte and the Interrupters on Saturday; or $39.50+ to catch Lil' Yachty and Machine Gun Kelly at Sunday's set.
As for the "INK" part of MUSINK, there will be hundreds of world-renowned tattoo artists, as well as tattoo competitions in what has become one of the greatest gatherings of elite tattoo artists in the world.
As anyone who follows Barker knows, the guy is also a massive car enthusiast, which is why he curated the Low N' Slow Car Show by handpicking every car you'll see in the show. From custom rides, to American Classics to the iconic SoCal lowriders, this car show will be just as big and exciting part of the festival as anything else.
Tickets for MUSINK are on sale now, and can be purchased at musinkfest.com.
Video Slider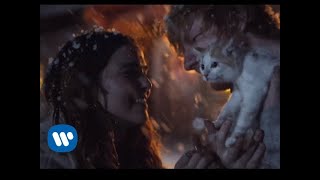 Win Tickets to See Ed Sheeran at the Rose Bowl
Ed Sheeran is back in Los Angeles, and your chance to see him perform is at the Rose Bowl in Pasadena on Saturday, Aug. 18. We are giving away complimentary tickets to the show. For a chance to enter to win, email us at in
[email protected]
with "Ed Sheeran" in the subject line and tell us why you would like to go.