Top Five Places We're Going to Eat at After the Eastside Food Festival
FrankieLucy Bakeshop's purple ube upside-down caramel had angels dancing on our tongues. (David Arellanes)
If you're the sort of person that gets hangry when you're in part of town that you're not too familiar with and ends up waiting in traffic to get to a place you know is good because Yelp ain't cutting it – then I'm here with a miracle solution. This predicament, fellow Angelenos, could be easily remedied by hitting up a local food fest like the Eastside Food Festival that was held over the weekend at Mack Sennet Studios. Showcasing that area of Los Angeles' most popular bites, the event offered a taste of meals, drinks and desserts.
Here are the top five favorite stops that have us excited to head back to the Eastside of town.
Kitchen Mouse: I am by no means a vegetarian or vegan but have friends who are, so trying the vegan chili and gluten-free cornbread pleasantly surprised me. Full of flavor and made from scratch, just a bite of their offerings excited me to hit this place up with my non-carnivorous friends.
Little Beast: We tried a sampling of one of their seasonal offerings. With crunchy quinoa, their lentil salad is a delight with some shaved cheese on top. It's a good switch from just greens-based lighter options.
FrankieLucy Bakeshop: The custard and coffee collaboration between Crème Caramel LA and Found Coffee treated us to a couple of their tasty custard options. Their purple ube upside-down caramel tasted like a sweet purple yam cloud with angels dancing on your tongue. Their buko pandan chia seed is gluten free and just as delicious for those avoiding the carbs. They're so light and fluffy. We can't wait to check out the new location of the collaboration to try more!
Our Los Angeles Vodka: The vodka drinks that the cocktail artisans from the Cocktail Academy were making on site with Los Angeles' very own small batch vodka were utterly delicious. Their vodka based Conquistador was a refreshing slushy made of pineapple, ginger, lemon and mint. Then they had a frozen vodka bottle drink with added hibiscus tea, lemon and soda water. It came in this awesome bottle with the vodka frozen in the bottom that would melt. Yes, melting vodka that would mix perfectly with the mixer above.
Jeni's Splendid Ice Creams: We loved their scoops. They had a selection of their flavors available, and we fell in love with their take on a classic. The milkiest chocolate ice cream will give you so much life!
Video Slider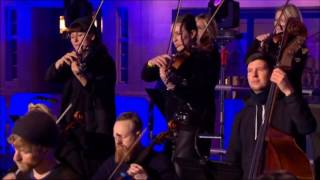 Win Tickets to See Pete Tong at Hollywood Bowl
Pete Tong is back in Los Angeles, and your chance to see him perform is at Hollywood Bowl on Thursday, Nov. 9. We are giving away complimentary tickets to the show. For a chance to enter to win, email us at
[email protected]
with "Pete Tong" in the subject line and tell us why you would like to go.