Top 10 World Cup Kits
Croatian striker Mario Mandzukic models the country's 2014 World Cup jerseys.
Now that all 32 teams in this year's World Cup have played at least one game, we've gotten a chance to see all the uniforms and form our own opinions on the hits and misses in the tournament. The beauty of these lists is that there is arguably nothing more subjective than a list ranking sports fashion.
Some people prefer the classic kits, while others opt for sleek and innovative. But this year's World Cup fashion has a nice blend of hits for all palettes. Here are the top 10 jerseys in the 2014 World Cup.
Ghana Home Kit by Puma – Most of Puma's kits share two common characteristics: They have painfully simple designs and are designed to be so tight, it seems only athletes could pull of wearing them. But only the latter applies to Puma's Ghana jersey. The Kente print around the neck area and sleeves accents the plain white jersey marvelously, while maintaining the customary design everywhere else.
Croatia Away Kit by Nike – Croatia's home kit is one of the more identifiable uniforms in soccer, so for their away kit, they decided to add an element of the kits they normally wear in Zagreb. The traditional checkerboard pattern lines the outer part of the sleeve and adds just enough of an accent to the royal blue jersey.
Ecuador Home Kit by Marathon – There has to be a special place on a best-dressed list for any team that sticks with an obscure home brand for a World Cup. When that lil' old home brand – up against trendsetters such as Nike and Adidas – manages to put together a great kit together to represent a country, that team deserves bonus points. Ecuador's home kit by Marathon isn't a home run, but it's a solid stand-up double off the wall. They didn't follow the trend of the big boys by going out of the box in their design, but this is far from a mail-in.
Russia Away Kit by Nike – Like Croatia and other countries in and around the U.S.S.R., Russia have only been a nation for just over 20 years, which means they haven't created many memories wearing any particular kit. But they're lucky to have one of the coolest crests of any team in the world, and Nike made sure to capitalize on that and enlarged it about as big as they possibly could. They managed to make a jersey that screams cold weather, while keeping the design classic and simple.
England Away Kit by Nike – Best-dressed lists in any World Cup are a place to reward bold choices by risk-taking, innovative designers or a place to tip your cap to the uniforms of heritage teams that have built lasting memories in their iconic garments. When looking at England's red away kit, the first memory that comes to mind is the 1966 World Cup-winning England side lifting captain Sir Bobby Moore on their shoulders as he hoisted the Jules Rimet trophy in what was the greatest day in English soccer history.
USA Home Kit by Nike – Yes, it looks a little like a golf shirt or like something that would meet the rigid, all-white dress code of the All England Tennis and Croquet Club, but this kit looks majestic during the singing of the Star-Spangled Banner. The subtle red stripe around the short sleeves and collar gives the shirt just enough of an accent and the overall simplicity of the shirt draws all the attention to the U. S. Soccer logo.
Netherlands Home Kit by Nike – You can't look at this and not think of all the Dutch idols that have worn this shirt, such as Johan Cruyff, Marco van Basten and Dennis Bergkamp. This is one of the few kits where the jersey stands on its own. Whether they wear white shorts or black shorts, this kit makes the Dutch look as good as they play. This is one of the greatest kits ever worn, but much like the Dutch team over the years, it falls short to another iconic uniform…
Brazil Home Kit by Nike – Brazil has had several different kit manufacturers since the 1970 World Cup in Mexico, the first tournament to be broadcast in color TV. Ever since Pelé lifted the cup in the distinctive yellow jersey and blue shorts that summer, any brand that manufactures Brazil's kit is smart enough not to put their arm through a Picasso. The names on the back may change constantly, but their home kit, much like their Joga Bonito style of play, will never change.
Netherlands Away Kit by Nike – The Netherlands don't always go with blue for their away uniform, but this time they did, and they made a great decision. This uniform is gorgeous. Up close, it looks like a light reflecting into the deep blue sea. The enlarged orange team crest provides the perfect touch to ensure everyone knows they are still Clockwork Oranje.
Croatia Home Kit by Nike – The fact that Croatia has both its kits on this list completely flies in the face of my aforementioned criteria of what constitutes a great uniform. This design is modeled after Croatia's original home kit in 1990, shortly after Croatia became a nation. The royal blue socks and white shorts provide the right amount of simplicity to balance out the red and white checkerboard patterned shirt. But what makes this kit great is that there has probably never been a uniform that became so identifiable in a shorter period of time, all while boldly going against convention in its design. Fortune favors the bold.
Video Slider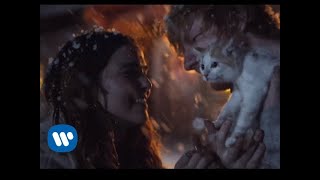 Win Tickets to See Ed Sheeran at the Rose Bowl
Ed Sheeran is back in Los Angeles, and your chance to see him perform is at the Rose Bowl in Pasadena on Saturday, Aug. 18. We are giving away complimentary tickets to the show. For a chance to enter to win, email us at
[email protected]
with "Ed Sheeran" in the subject line and tell us why you would like to go.