Top 10 Films of 2015
The Big Short is the best and most essential film of the year. (Paramount Pictures)
There is a tendency among critics to proclaim that each year is a disappointing one in cinema that does not measure up to those where long-established classics were released. It would be easy to call 2015 one of those years, since few of the established giants of filmmaking released major films, and many of the year's best movies were directed by people whose reputations do not measure up to the likes of Martin Scorsese. The year had a wealth of good movies, but few that were expected. Even those legends who did release films, like Ridley Scott, approached them from perspectives one would never expect. Beyond the films in this list, there were sequels that had no right to be as charming or as likable as they should have been (Mission: Impossible – Rogue Nation, Ted 2), a Star Wars movie that gave fans exactly what they wanted since 1999 and even some films that breathed life into seemingly well-worn historical territory (Son of Saul, Labyrinth of Lies). Below are the 10 best films of the year.
10) 45 Years – Happiness is a very precarious thing sometimes, even in the form of a marriage that has lasted nearly a half century. In its story of a married couple, Kate and Geoff Mercer (Charlotte Rampling, Tom Courtenay) – who must reevaluate their life together after the discovery of the long-lost corpse of Geoff's girlfriend, who died in an accident years before he and Kate met – Andrew Haigh examines the subtle shifts that revelations may have on even the sturdiest of bonds. Rampling and Courtenay have over a century of acting experience between them, and the pair who came to prominence as youths in the swinging '60s resurgence of English cinema demonstrate that they are as exciting, inventive actors now as they were when they were starring in classics like Doctor Zhivago and Georgy Girl.
9) 99 Homes – Michael Shannon has the perfect face for villains. He looks like he is on the verge of considering something malevolent, a quality that made him a good choice for General Zod in Man of Steel. Shannon could be the heir to Christopher Walken, but his role in 99 Homes is a stark, realistic look at a real-life devil. This is a brutal tale of how lives were destroyed by the housing crisis of 2008, and how vultures like Shannon's Rick Carver exploited everyone around them to make fortunes out of human misery. This film by Ramin Bahrani is a seductive look at the corruption of the banks and the people who foreclose on them, from the view of a foreclosure victim (Andrew Garfield) who becomes a trusted confidant of a person who profits from human misery.
8) Mustang – Denis Gamze Ergüven made this film based on her own childhood in Turkey, but the director, who has lived in France and premiered Mustang at the Cannes Film Festival, was able to take her cosmopolitan experiences to make a film that combines a harsh, realistic look at the plight of women in Turkish society with a fairy-tale quality. That she did so using a cast of entirely non-professional actresses is even more remarkable. This has been a great year for women in film, from legends such as Maggie Smith and Lily Tomlin to current A-listers like Cate Blanchett and Jennifer Lawrence and even five young girls from Turkey who never acted before. That they owe their success to the woman who is the creative force behind their performances makes it even a greater triumph.
7) Carol – There exists a point in some careers when it is no longer a question of whether an actor is one of the best working at the moment, and it becomes more relevant to ask where that person stands as one of the greatest of all time. Cate Blanchett reached that point with her two leading roles this year, in Carol and Truth. Both performances are exceptional and vastly different from one another, and both films are worthwhile pieces of cinema. Whatever the many strengths of Truth, however, Carol is the better film. After his reimagining of Douglas Sirk in Far From Heaven and his reinvention of "Mildred Pierce," Haynes once again revisits the melodrama and makes the best film of his career. Blanchett and Rooney Mara make a fascinating pair as the lesbian lovers and recall the attitudes of Hollywood legends. Had it been possible to make this film in the era in which it is set, it might have starred the Hepburns – the imperious Katharine as Carol and the gamine Audrey as her lover – but it is hard to think that even they would improve upon the performances that Blanchett and Mara give today.
6) Tom at the Farm – The French-Canadian wunderkind Xavier Dolan is only 26 and already has made a significant contribution to world cinema. Tom at the Farm suggests that some day Dolan will take his place among the few international filmmakers that American audiences know such as Ingmar Bergman and Pedro Almodóvar. Tom at the Farm shows a maturity well beyond Dolan's years, in its Hitchcockian tale of Tom (Dolan, who stars) who visits his late boyfriend's family and is trapped by the boyfriend's homophobic brother, who hates Tom but refuses to let him leave. Tom at the Farm understands that there is often little difference between the feelings of grief and fear. It is both remarkable as an example of a filmmaking talent on the rise and a gripping thriller on its own.
5) The Martian – There is not an ounce of cynicism in The Martian, which makes it the most improbable work of Ridley Scott's career. The man who directed Blade Runner and Alien has never made a film as loose, funny and charming as he has here, although no one will be surprised that it retains all of the technical prowess Scott has honed over his four decades of filmmaking. The Martian is exactly the type of film that Hollywood should be making, yet so rarely does: a star vehicle that uses its A-list lead (Matt Damon) to great effect in service of a story that could appeal to any audience.
4) Brooklyn – Saoirse Ronan first earned acclaim at age 13 for Atonement, and much like Jodie Foster – whom the Irish actress resembles in terms of her watchfulness, poise and preternatural calm – she has matured into an actress as interesting to watch as an adult as she was as a child. In John Crowley's film of a Nick Hornby adaptation, Ronan has the unenviable task of giving a rich inner life to a character who is quiet and contemplative, playing an Irish immigrant who falls in love in America but has to return to her native country after a tragedy occurs. Much like Carol, it is a depiction of the 1950s from a modern perspective, but unlike the Todd Haynes lesbian melodrama, Brooklyn could have been as easily released in 1952 as in 2015. However, it does not share the easy sense of hindsight that Carol does, which makes this seemingly old-fashioned romance seem tougher and, in many ways, more bleak.
3) The Stanford Prison Experiment – Kyle Patrick Alvarez made the most undervalued film of the year, an intense, gripping look into the psychological experiment conducted over 40 years ago at Stanford University. Most of the other films on this list have received numerous critics' awards and some will earn shiny statues over the next several months, but The Stanford Prison Experiment may eventually earn the reputation it deserves when its cast of talented young actors achieves the stardom that some will inevitably achieve. While the film does an exemplary job of creating the sense of madness that must have marked the Stanford experiment, it also exists as a wry commentary on how these kids at one of America's prestigious schools are among the class who run this country. The inmates are indeed running the asylum.
2) Room – There is a scene about halfway through Room in which one of the characters performs an act of bravery and heroism that is so moving that a room filled with hardened film critics could be heard in tears. That is the magic of Lenny Abrahamson's Room, which despite dealing with some absolutely horrendous subject matter – the kidnapping and repeated rape of a young woman who must raise the child she bore by her captor – is a testament to the best qualities that humans can possess: our ability to love, our ability to place the needs of others above our own and our ability to transcend even the worst situations. There are no characters that people will care about more than those played by Brie Larson and Jacob Tremblay.
1) The Big Short – Credit default swaps, collateralized debt obligations and tranches of mortgage-backed securities might be the least cinematic concepts imaginable, but The Big Short takes the story of the collapse of Wall Street in 2008 and makes it into a film that is informative, entertaining and often hilarious. Nothing in the career of Adam McKay could have prepared for what he accomplishes here, turning extremely dense, dry subject matter into a work that should define the causes of the Great Recession for years to come. The cast is an embarrassment of riches, from the anchoring storylines headed by Steve Carell and Christian Bale down to what are essentially cameos by Melissa Leo, Max Greenfield and Billy Magnussen. The Big Short takes material that is difficult to understand and makes it entertaining, informative and exciting. This is the best and most essential film of the year.
Video Slider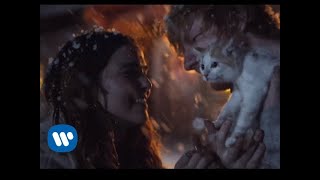 Win Tickets to See Ed Sheeran at the Rose Bowl
Ed Sheeran is back in Los Angeles, and your chance to see him perform is at the Rose Bowl in Pasadena on Saturday, Aug. 18. We are giving away complimentary tickets to the show. For a chance to enter to win, email us at
[email protected]
with "Ed Sheeran" in the subject line and tell us why you would like to go.