Tony Hawk Foundation Unites Skateboarders and Musicians to Create Unique Art Pieces for Boards + Bands Auction
Tony Hawk and Ben Harper at the Boards + Bands launch press conference Aug. 12 in West Hollywood. (Jody Morris)
The third-annual Boards + Bands Auction, which raises money to build skateparks in low-income areas, shared its vision and success with the world on Aug. 12 in a press conference led by Tony Hawk and Ben Harper at the London West Hollywood.
Since being founded in 2012 by the Tony Hawk Foundation, this auction has raised over $139,000 that has contributed to the creation of new skateparks all across the United States. Its mission is to contribute to a sport that is quickly pushing itself into the suburbs of this country by creating safe and functional recreational areas for children.
The foundation captures the best of both worlds, linking the sport of skateboarding and the art of music onto one artifact. The idea begins with a professional skater who also presents his favorite song donates one skateboard. The board is then handed over to the artist who personally writes the lyrics on the skateboard, which is then auctioned off, and the proceeds all go towards the creation of new parks.
The president of the foundation – who also happens to be arguably the most iconic skateboarder ever – Tony Hawk, along with Grammy-winning musician Ben Harper are the two brilliant men who used their passion to help a nationwide issue. However, Hawk says that he can't take any credit for how this idea came about.
"To be honest I have to give full credit to Ben. At one of our board meetings he said, 'What if we just get skaters to donate boards and have them make a suggestion for a songwriter and a song, and they write the lyrics,' and I was kind of like, 'Yea that'd be cool. I don't know if we'll be able to get the caliber of musicians that people would request, but we can try,' and we did the first year, and it's been going ever since – thanks to [Harper]," says Hawk.
In fact, Harper shares that "it was on a bathroom trip" that this no-brainer idea came to his mind as he was walking right by Hawk's office during a meeting they were having.
"I was at the Tony Hawk Foundation meeting, but this particular meeting was at Tony's office. I walked by Tony's office, and he had a board with writing on it. I just flashed on it right then," says Harper.
The boards range from contributors like L.A. native Paul Rodriguez to Nyjah Huston, and are signed by music legends from every genre: Jay Z, Elton John and Metallica.
Hawk shares that he is thankful to have the continued support from all these skaters and artists because without their donations kids wouldn't be able to pursue the art of skateboarding, a sport which shaped Hawk.
"It was my salvation growing up. I felt like an outcast; I didn't really fit in. I was kind of nerdy, really skinny," he recalls. "Once I found skateboarding, it was this collection of beautiful outcasts, and I fit right in. I really loved it, and we all came from different backgrounds but we all found this common interest and this creative art form."
The foundation looks to "promote and provide technical assistance and funds for high-quality public skateparks in low-income areas throughout the United States that promote healthy, active lifestyles, and to International programs that enrich the lives of youth through skateboarding."
You can bid on these one-of-a-kind skateboards at charitybuzz.com/support/714, but hurry, the auction ends on Aug. 26.
Video Slider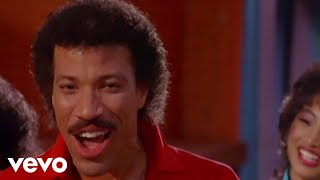 Win Tickets to See Lionel Richie at Hollywood Bowl
Lionel Richie is performing with very special guest Mariah Carey on the All the Hits Tour, and your chance to see them is at the Hollywood Bowl on Monday, July 31.