Three Reasons You Must Attend Juan Gabriel's Show at The Forum
Juan Gabriel brings his latest tour to the Forum this Friday, Sept. 11.
Here we go … again!
After a very successful U.S. run dubbed Volver in 2014, Latin pop, rock, ballad, ranchera and mariachi singer-songwriter Juan Gabriel is back for what's expected to be another schedule of sold-out and entertaining performances.
The Bienvenidos al "Noa Noa" tour, put together by the Chicago-based Cardenas Marketing Network, begins this Friday, Sept. 11 at the Forum in Inglewood, Calif. at 8 p.m. and ends Sunday, Dec. 6 at Don Haskins Center in El Paso, Texas. Throughout the tour, the beloved musical legend of Mexico performs in Miami, Chicago, New York, and Seattle, among other cities.
Gabriel, now 65, began his illustrious career in his teenage years en route to becoming by far the most popular singer and songwriter out of Mexico, and perhaps even the entire Latin-America area. This guy's a genius, musically.
His hits, which have helped him sell over 100 million albums globally, include "No Tengo Dinero," "He Venido A Pedirte Perdón," "El Noa Noa," "Querida" and "Abrázame Muy Fuerte," among others. And now you all can catch them live in a city near you.
But, here are three reasons you must attend Juan Gabriel's show at the Forum.
Worth Every Penny
Whether you pay $92.65, $113.70, $135, $178.60 or $261.90, your ticket is worth every penny. Not only will Juan Gabriel entertain you for over two hours with his original musical content, he will also render a substantially memorable night for you. It's one of those concerts that you'll easily remember for decades to come. It's simply because of Gabriel's charismatic demeanor on stage, but the venue has something to do with that, too.
Venue Is Ideal for Someone Like Juan Gabriel
Now, I didn't know what to expect out of the renovated the Forum (near LAX), but I've come to like and respect what they've done with it. The Forum is big inside, first of all, and that's helpful. But on top of that, it is chic; the parking lots are large enough that you'll find parking with no trouble at all and, most importantly, anywhere you sit you'll come to view and hear the performance as if you were directly in front of it. You can't go wrong with that. The sound itself is, for lack of a better word, superb. My experiences there while catching mariachi and pop singer Pepe Aguilar, R&B stud Chris Brown, Spanish rock gem Alejandra Guzman and rock kings U2, among others, have validated that quite well. The Forum's the perfect venue for Gabriel, for what he does, for what he will bring, for his sound, for his voice, for him.
It's A Show Like No Other Before in Latin Music
For those unaware, Juan Gabriel is all about entertaining and pleasing his adoring fans – particularly those in Los Angeles. For over seven years, Gabriel hadn't performed in the City of Angels because of legalities. And after his Volver nights at the Microsoft Theater (formerly known as Nokia Theatre L.A. Live) in 2014, the public just kept wanting more and more. While on stage, Gabriel unites crowds of all ages, races and sexual orientation. It's a colossal party not only because of his enchanting ways, but also due to his thrilling energy as he sings and, oftentimes, dances his enthralling repertoire. His orchestra is filled with the type of talent that excites by simply playing their instruments, his back-up vocalists ignite fire within tunes and his dancers and their routines are just phenomenally delivered.
For a complete listing of the Bienvenidos al "Noa Noa" shows, visit cmnevents.com.
Video Slider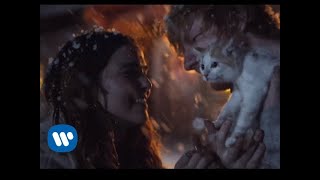 Win Tickets to See Ed Sheeran at the Rose Bowl
Ed Sheeran is back in Los Angeles, and your chance to see him perform is at the Rose Bowl in Pasadena on Saturday, Aug. 18. We are giving away complimentary tickets to the show. For a chance to enter to win, email us at
[email protected]
with "Ed Sheeran" in the subject line and tell us why you would like to go.