There is a Lot of Soul, Flavor and Southern Hospitality at South City Fried Chicken in DTLA
The Greenvill with duke's mayonnaise, house smoked chicken bacon, gruyere, shaved baby iceberg, heirloom tomato, bo-spice from South City Fried Chicken. (Ziv Sade)
The downtown area of Los Angeles (DTLA) has seen a housing boom in the past 10-12 years with thousands, mostly young people, either buying condominiums or renting new and rehabbed buildings in the historic core with this trend moving into its perimeters. Along with this renaissance in population, a slew of new hotels, clubs, music venues, art galleries, restaurants and other business have filled thousands of new commercial spaces and others that were dormant for decades.
One of the newest "it places" to go for a quick bite happens to be an intimate, hip, food court/mall named Corporation Food Hall located at 724 S Spring St, Los Angeles, CA 90014 which opened in 2017. Located on the street level of a historic 12-story brick-faced building, it houses an array of food stands featuring cuisines from the Middle East, Mexico, South East Asia, Italy, and now from the southern region of the United States, South City Fried Chicken (SCFC) owned by Joshua Kopel and Chef Sammy Monsour who are also the proprietors of Preux & Proper, another restaurant in DTLA which opened in late 2014.
On Tuesday, July 31st a private media event was held for SCFC, with all kinds of interesting guests, including one young man in a chicken suit (minus the head mask) who acted as the evening's host. Given my past experience with a similar event for Lunetta Dining & the Moon Bar in Santa Monica, I kept myself close to the area of the counter where most of the food was making its way out in order not to miss one single bite.
Since the kitchen in these food stands are fully visible to the dining area, one can observe and appreciate all the hard work everyone puts forth in the preparation of these delectable offerings for such a demanding crowd. Kudos to Chef Sammy Monsour for managing his staff so well, like a maestro conducting a culinary symphony.
The main drive and idea behind this food venture are the specialty, friend chicken sandwiches, each named after eight great southern cities, which include Chapel Hill, Greenville, Birmingham, New Orleans, Louisville, Miami, Austin and Nashville.
My first tasting sampler was of the watermelon cucumber salad which is made with lime, mint, macadamia nuts for crunchiness, cilantro, Thai basil, coconut and olive oil which was not only light and delicious, but very refreshing on a hot summer evening. After that came a delicious slider of their house specialty, the Louisville fried chicken sandwich which was served on a buttermilk biscuit with pepper jelly, bourbon barrel aged green hot and poblano butter. Another delectable treat was the spicy Austin chicken slider which was served with a rojo bean hummus, burrata, javi's tia's hot sauce, pickled radish, cilantro, blue corn tortilla crumble and heirloom tomato.
Interesting enough, one of the highlights of the evening for me was the Memphis Juke Joint Fries, a side dish which are French fries smothered with a Memphis rib rub, turbodog brown ale cheese sauce, house smoked chicken bacon, shaved jalapeno and cilantro. This spicy treat had me tripping over myself in order to get several additional helpings. To cool off my palate, I managed to snag on my way out, several tiny cones of their soft served Pineapple Dole Whip, another addictive treat.
Video Slider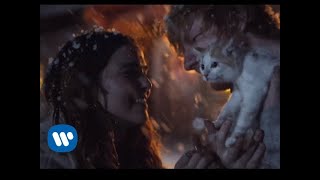 Win Tickets to See Ed Sheeran at the Rose Bowl
Ed Sheeran is back in Los Angeles, and your chance to see him perform is at the Rose Bowl in Pasadena on Saturday, Aug. 18. We are giving away complimentary tickets to the show. For a chance to enter to win, email us at
[email protected]
with "Ed Sheeran" in the subject line and tell us why you would like to go.