The Third Album from Ximena Sariñana Is Her Proudest Yet
Ximena Sariñana just wrapped up a U.S. tour in support of her latest album. (Warner Music Latina)
Fresh off her U.S. tour, Mexican actress and singer, Ximena Sariñana has been able to attain what most artists strive for, finding their sound and feeling comfortable in their skin. Having released her debut album, Mediocre, in 2008, it was met with critical acclaim and garnered her a Grammy nomination for Best Latin Rock/Alternative Album.
"It's been a really lucky career," shares Sariñana. "Fortunately enough, my first album was really true to myself, and I already had a pretty solid sound when I started."
Sariñana's career in the entertainment business began at the age of 11, but not as a singer, as an actress in the role of Mariela on the popular Mexican telenovela "Luz Clarita." Having earned a scholarship for a five-week program at Berklee College of Music, she composed three songs for the Amar te Duele soundtrack – a film in which she also acted.
In 2010 she toured with Sara Bareilles on the Kaleidoscope Heart Tour. Sariñana released her sophomore effort, a self-titled album, in 2011.
Of her most recent album, No Todo lo Puedes Dar, she says it's the typical third album of an evolving artist. It debuted in 2014, and the singles "Sin Ti No Puede Estar Tan Mal" and "Ruptura" have since climbed the charts.
Referring to it as "a really personal record," Sariñana says it's the album she has most identified with thus far into her career.
"I really like what I was able to achieve with it," she says. "It has an original sound, and sounds like the artist I want to be."
When it came to writing for the record, she followed a strict schedule.
"I would wake up, sit down and plan a whole day dedicated to just writing, even if I wasn't in the mood to."
As a songwriter, and as an artist in general, she stresses that is how the best pieces of work come about: through practice.
"It's a muscle that you have to work at and develop," she says. "You have these amazing 'eureka' moments where you suddenly get an idea for a song that could develop into something really interesting."
Having just concluded her No Voy a Decir Que No Tour in August across more than 20 cities, the singer also acted as a special guest for Juanes during his Loco de Amor Tour. Much like her sound, Sariñana's stage presence has also gone through an evolution.
"You have to remember being on stage is all about having fun, being able to convey the amazing energy that happens on stage with your musicians and your music," she explains. "For me, it's been a great learning process. With my first record, i remember my set was really static, for my second album I used my keyboard as sort of a security blanket. With this [album], I feel comfortable in my own skin and am enjoying just running around, having a good time and connecting with the audience a lot more."
For now, Sariñana wants to tour this album as much as possible. Along with that, there are plans for a vinyl release and re-release of No Todo lo Puedes Dar.
"I'm proud of what I was able to achieve from the tracklisting, from the artwork and the tour to live shows," she says. 'Everything has come out as I wanted it to. The cherry on top would be concluding this project with the new edition of the album and the beautiful vinyl we're working on."
For more information, visit ximenamusic.com.
Video Slider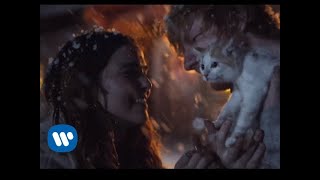 Win Tickets to See Ed Sheeran at the Rose Bowl
Ed Sheeran is back in Los Angeles, and your chance to see him perform is at the Rose Bowl in Pasadena on Saturday, Aug. 18. We are giving away complimentary tickets to the show. For a chance to enter to win, email us at
[email protected]
with "Ed Sheeran" in the subject line and tell us why you would like to go.