The Taste of Town
Chef Nyesha Arrington of Leona at L.A. Times' the Taste (Instagram)
Food, food and more food are the first things that come to mind when attending the Los Angeles Times' the Taste annual Labor Day festival. The Taste takes over the backlot of Paramount Pictures Studios to celebrate Southern California's best cuisine, wines and spirits. The streets of Paramount's "New York" are transformed into a block party, which is aptly what one of the events is called.
Beginning on the evening of Friday, Sept. 2 through Sunday, Sept. 4, five different events take place that honor diverse themes and chefs. Some of the top restauranteurs and national critics host the day and evening festivities, from Michael Cimarusti (Providence and Connie and Ted's) to Pulitzer Prize-winning critic Jonathan Gold. An Evening Among the Culinary Stars, Field to Fork, Dinner with a Twist, Sunday Block Party and Flavors of LA are the themes of each distinct celebration.
No genre of food or alcohol is forgotten, from the original 1893 Pepsi recipe to special reserve wines from New Zealand and premium whiskey from Tokyo. There is such a broad spectrum of restaurants ranging from small to large grand-scale spaces serving all types of food in different booths – risotto served out of parmesan wheel to homemade chicken broth ramen that literally excites every tastebud. There is not a palate that cannot be satiated.
There is no shortage of tacos served throughout the days, but there were a few standouts. Chichén Itzá and Mexikosher ("Top Chef" alum Katsuji Tanabe) had some of the longest lines offering different versions of their tacos. From a puffed corn tortilla to slow-cooked marinated meat, the flavors exploded on your tongue. Lobster burgers, fall-off-the-bone spare ribs, hamachi, homemade sourdough breads and hand-spun ice creams were just some of the delicious items as the menu goes on and on.
Another "Top Chef" alum Nyesha Arrington's restaurant, Leona, celebrated a summer of corn with an amuse bouche consisting of four different figurations of corn in a very yummy bite. These chefs normally do not churn out food for the masses and take such pride in preparing each bite that goes out, even using chef's tweezers and hand-tossed dough for pizza.
Let's not forget the libations either: handcrafted cocktails blended with vodka, orange and fennel to Stella Artois. All sorts of spirits were joyfully discussed and demonstrated. People left feeling like they themselves could be a mixologist.
The Taste has such a friendly environment amongst all the attendees who have a love of food. People are sharing, discussing their favorites and telling which stands that they MUST try in order for their night to be complete. You leave feeling like you need to be rolled out because you can't let a single bite go to waste. Every Instagram account is blown up with pictures of food and the free swag that is also collected.
Overall this is such a fun thing to do over the Labor Day weekend that will leave your tongue overwhelmed from all the flavors. Also, it's an opportunity to talk to and meet some of your favorite chefs and feel like a professional foodie hanging around your true tribe! Make sure to mark your calendar for next year's The Taste.
Video Slider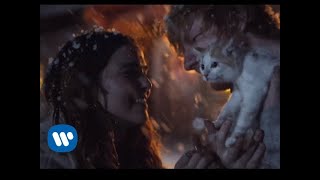 Win Tickets to See Ed Sheeran at the Rose Bowl
Ed Sheeran is back in Los Angeles, and your chance to see him perform is at the Rose Bowl in Pasadena on Saturday, Aug. 18. We are giving away complimentary tickets to the show. For a chance to enter to win, email us at
[email protected]
with "Ed Sheeran" in the subject line and tell us why you would like to go.