The Neighborgoods Offers Fun, Foodie-Themed Products
Fun, foodie-themed products from The Neighborgoods
With the rise in foodie culture and the popularity of places like Etsy, people are always on the lookout for new and original ideas from gifted creators. The Neighborgoods, based out of Washington D.C., makes quirky and creative food-themed goods—such as watermelon-themed dish towels, ice cream cone onesies for babies and pickle-themed clothing buttons, to name a few items—to give your kitchen and everyday life a touch of style and originality you won't find at stores.
Started more than four years ago by Jodi Kostelnik, a successful graphic designer with more than 12 years experience and a passion for creating, The Neighborgoods' products are "inspired by the beauty of food and how it brings people together—whether trough baking cupcakes, making homemade jams or sharing a love of beets."
Their products can give a drab or minimalistic kitchen a whimsical charm in a subtle way. Take their dish towels, for example; a kitchen item most people have in plain colors. They have a white, purple and pink fig-themed towel that says "Get Figgy With It," an ice cream-themed one that says "Stay Cool" and an "I'm Kind of A Big Dill" clever pickle-themed towel with a beautiful and unique design that fits any type of kitchen. Each sensibly priced at $18, these clever creations are well-worth every penny. But if you're going to get the towel, you might as well get the stylish matching apron ($34) to go with them and 8"x10" art prints of several foods and vegetables ($18) to give your cooking haven a more well-rounded theme.
The Neighborgoods also carries baby onesies, greeting cards, buttons and mugs—each with the style and craftsmanship Kostelnik is so passionate about.
"When my goods bring a smile to someone's face or when a customer can find the perfect gift for their pickle loving friend," she says, "it makes my day and that's why I keep creating our fun, foodie themed products."
You can find everything at theneighborgoods.com.
Video Slider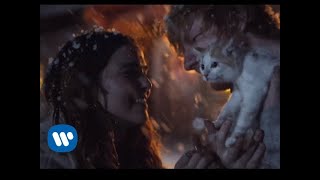 Win Tickets to See Ed Sheeran at the Rose Bowl
Ed Sheeran is back in Los Angeles, and your chance to see him perform is at the Rose Bowl in Pasadena on Saturday, Aug. 18. We are giving away complimentary tickets to the show. For a chance to enter to win, email us at
[email protected]
with "Ed Sheeran" in the subject line and tell us why you would like to go.