The Boogeyman Lurks at This Year's Los Angeles Haunted Hayride
See what's new at this year's Los Angeles Haunted Hayride. (Christopher Brielmaier/rogueshollow.com)
The Los Angeles Haunted Hayride takes over the Old L.A. Zoo once again for its delightfully devious event. Promising to be all new from the ground up, here are some things we are looking forward to seeing at this year's most Halloween spirited haunt.
Here Comes the … Boogeyman – This year's re-theming is centered on a familiar spook that has been causing childhood nightmares for generations. It's going to be interesting to see how unleashing this spirit plays into the new hayride format. Last year's journey had scares, fun effects, annual fave sections and quiet moments of spooky beauty. Whether this monster drives the whole event or just joins some of the amazing traditions of the hayride is something we are really looking forward to.
The In-Between Maze Is Back – This maze has always had a blank canvas kind of feel that is never the same. The hit attraction that's completely engulfed in darkness or outside in the woods with dead ends and monsters at every turn, promises to have a new twist. The red lantern you received was not only your guiding light but also there to guide monsters to you. Sorry and beware, but apparently this year there are no lanterns; you get to wear a clown mask to further disorient you in the new maniac clown-infested maze.
New Maze: House of Shadows – The Boogeyman's presence is also going to be felt in maze form. You get to enter a home that has for centuries tormented its occupants with unspeakable and heinous acts. Who else would be behind nighttime home terror but the Boogeyman of course! Guests are immersed in dark rooms, trapped going through voids with no exit and no choice but to keep going by the will of spirits within.
Interactive Door-to-Door Trick-or-Treating – These aren't going to be tame candy stations. Oh, no! In this participatory attraction, guests go door to door getting tricks or treats, but which you'll have to wait to find out. You don't have to be a kid for this, just one at heart who's ready to experience this tradition on a whole other level!
Los Angeles Haunted Hayride runs Oct. 2 through 31. For tickets and more information, visit losangeleshauntedhayride.com.
Video Slider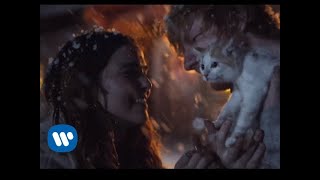 Win Tickets to See Ed Sheeran at the Rose Bowl
Ed Sheeran is back in Los Angeles, and your chance to see him perform is at the Rose Bowl in Pasadena on Saturday, Aug. 18. We are giving away complimentary tickets to the show. For a chance to enter to win, email us at
[email protected]
with "Ed Sheeran" in the subject line and tell us why you would like to go.