Tenth & Pine Keeps It Neutral
Tenth & Pine carries adorable items like Eskimo Kids' Snow Leopard Faux Fur Hat.
Oh, baby! That's what shoppers will be saying when they learn about the cool new baby brand, Tenth & Pine.
Created by owner Kerynn, the company features trendy and adorable pieces. It also sets out to bring together gender neutral and unisex collections.
Besides providing consumers with amazing items, for Kerynn, it was another chapter to her story. Having been given a less than one-percent chance of ever conceiving naturally due to endometriosis, eight years later, it happened.
Ezra Jade was born, and her miraculous birth blossomed into an entirely new world of excitement for Kerynn: a new love for all things baby-related.
If you're looking for clothing, accessories and anything unique, Tenth & Pine is calling your name.
Based out of Los Angeles, the shop carries designer collections including Copper Pearl, Fin & Vince, ELM Apparel, Eskimo Kids, The Bee & The Fox and many more.
As far as sizes go, the clothes range from 0-6 months all the way to 6T. Subscribe to the mailing list, and you'll receive 10-percent off.
One of the most adorable items featured at the shop is the Snow Leopard Faux Fur Hat by Eskimo Kids. Honestly, it's so cute you'll wish it was sold in adult sizes (Sorry, it's not.).
Insert all the heart-eye emojis here. Bundle your baby up in the coziest hat. This light brown and cream spotted hat makes for the most stylish finishing touch. Offered in sizes x-small and small, it currently retails for $23 (originally $33).
Another great buy is the Bapron Baby Bapron Bib – Geometric Fox. The gender-neutral print makes it a great baby shower gift, or gift in general.
Sweet little fox faces and pine trees meet on a gray backdrop to create a lovely bib for any child. Ideal for mealtime, arts and crafts, and overall general use, the fabric is durable and waterproof.
It's quick drying, stain resistant, machine washable and 10- percent certified baby-safe (free of harmful chemicals and safe for sensitive skin). The Bapron Baby bibs can be quickly cleaned or deep cleaned.
It measures 10 inches long and fits young ones from 6 months to 3T. It retails for only $17.
Visit tenthandpine.com to view the clothes and to place an order. Move quickly, there's currently a sale, and you can save up to 45 percent-off of select items.
Tenth & Pine will be at the Autry event in L.A. on April 21st. For more information, visit https://theoddmarket.com/autry/
Video Slider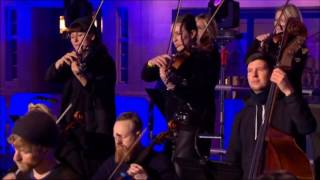 Win Tickets to See Pete Tong at Hollywood Bowl
Pete Tong is back in Los Angeles, and your chance to see him perform is at Hollywood Bowl on Thursday, Nov. 9. We are giving away complimentary tickets to the show. For a chance to enter to win, email us at
[email protected]
with "Pete Tong" in the subject line and tell us why you would like to go.