Telemundo Continues Unique List of Soap Operas with "Santa Diabla"
Cast of "Santa Diabla" includes Gaby Espino and Aarón Díaz as the protagonists, with Carlos Ponce and Ximena Duque as antagonists. (Marvin Vasquez/Living Out Loud LA)
Latin soap operas tend to be easy to predict, most often than not. Certainly, this isn't the case with the pieces produced by Telemundo Studios.
The Miami-based television network company is currently airing its newest piece titled "Santa Diabla," which includes Gaby Espino and Aarón Díaz as the protagonists, and Carlos Ponce, Ximena Duque and Wanda D'Isidoro as the antagonists.
Ponce, who is Puerto Rican, is being presented for the first time in an antagonistic role. "There will be a moment that we will not know who in history has the good or evil," he said, while noting he's both curious and excited of his character. "It was about time I did malevolent things. I'm enjoying this character."
Meanwhile, the Venezuelan Espino appears to be thrilled.
"I feel excited, happy and honored to participate in this story that I am sure will be loved by people," she said.
As of Tuesday, Aug. 6 Telemundo began to broadcast "Santa Diabla" weeknights at 10pm/9c, replacing "El Señor de los Cielos." In addition, the network broadcasts English subtitles as closed captions on CC3.
According to Telemundo, "Santa Diabla" is an original story by José Ignacio Valenzuela ("La Casa de al Lado," "Dama y Obrero").
"I have always involved myself in projects that leave something in the public," said Díaz, a Mexican actor. "From the moment I began to read the script, I knew that this was right for me."
"Santa Diabla" depicts the story of Santa Martinez (Espino), a beautiful woman en route to a dramatic turn in her life: she will have to decide between love or revenge.
Video Slider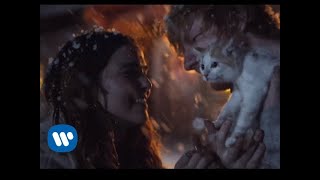 Win Tickets to See Ed Sheeran at the Rose Bowl
Ed Sheeran is back in Los Angeles, and your chance to see him perform is at the Rose Bowl in Pasadena on Saturday, Aug. 18. We are giving away complimentary tickets to the show. For a chance to enter to win, email us at
[email protected]
with "Ed Sheeran" in the subject line and tell us why you would like to go.