Taste of Chaos Brings a Touch of Nostalgia
Arizona emo heavyweights Jimmy Eat World are just one of the bands featured on the marquee lineup for Taste of Chaos.
Just like the thrill of finding an old iPod from high school, or actually remembering your old MySpace password, the alternative emo festival, Taste of Chaos, has returned from a five-year hiatus to bring millennials back to a time where angled mirror selfies and that weird bleached/black-spiked combover hairdo was all the norm (Don't front, you know you had that profile picture on your LiveJournal!).
The post-hardcore festival – founded in 2005 by Warped Tour mastermind Kevin Lyman and partner John Reese, the man behind the Mayhem Fest – has spawned countless careers over its initial run and comes to the San Manuel Amphitheater Festival Grounds Oct. 3, bringing with it a who's who of bands that catapulted the emo/hardcore scene in the mid '00s.
This a marquee lineup featuring Arizona emo heavyweights Jimmy Eat World, Utah's the Used and Florida's emo pioneers Dashboard Confessional. Rounding out the lineup is the return of Thrice, All-American Rejects, Saves the Day, the Movielife, Story of the Year, Finch, Blink-182's Mark Hoppus who is doing a DJ set, Greek Fire and Adair (You remember them, don't lie!). One of the more legendary acts on the bill is Brooklyn's Glassjaw, who have made only a handful of appearances over the last few years.
With a rise in popularity of the monthly Taking Back Tuesday, held at The Echoplex the first Tuesday of every month, patrons are treated to a whole night of their favorite cuts from artists who helped define the visceral and raw emotion of their formative years. The monthly night has spawned a full-fledged life of it own, even coming out with a iPhone app that sends lyrics from your favorite emo songs via text.
But honestly, how much fun can it be to crowd surf to an iPod and DJ setup? The great thing about this type of music is that it was meant to the experienced live, for the bands to feel the crowd's energy as patrons scream back the lyrics to their favorite songs.
A decade ago, the idea of being able to see a lineup of bands like this would have blown so many minds. For Lyman and Reese to bring this festival back after seeing such a resurgence of the emo scene, lets fans not only embrace the past, but also feel a little hopeful for the future of their beloved scene.
Taste of Chaos is Oct. 3 at San Manuel Amphitheater Festival Grounds. For tickets and more information, visit tasteofchaos.com.
Video Slider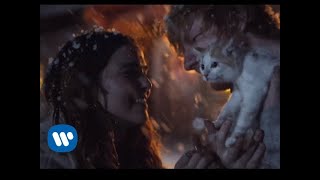 Win Tickets to See Ed Sheeran at the Rose Bowl
Ed Sheeran is back in Los Angeles, and your chance to see him perform is at the Rose Bowl in Pasadena on Saturday, Aug. 18. We are giving away complimentary tickets to the show. For a chance to enter to win, email us at
[email protected]
with "Ed Sheeran" in the subject line and tell us why you would like to go.