Taco Tuesday with a Twist
Spicy chicken wonton tacos are a must on Taco Tuesday. (Yelp)
No one can deny it. Here in Southern California, we love our tacos. We've got our LA street tacos and our tacos al Pastor. Carne Asada. Chicken. Carnitas. The Taco Man is a permanent fixture at every backyard bash, and "We Want Tacos" is the habitual cry at the ending of every Lakers home game. Potato. Shrimp. Fish.
So why is it that we limit ourselves to ground beef and a box of Ortega shells when we make them at home? Chopped Tomatoes. Plain Sour Cream. Salsa from a jar.
If we really want to spice things up, we add a wedge of lime and a dash of Tapatio. Week after week, it's nothing but the same pound of ground beef after pound of ground beef, with or without the wedge of lime. No wonder boring homemade tacos are becoming a thing of the past, while Taco Tuesday out with coworkers has become the next best thing to Friday.
And why not with the spicy salsa, tangy guacamole, and more tacos to choose from than could even be enjoyed in one sitting. It's the perfect time to shoot the breeze, and laugh at that funny prank your team played on the boss the other day. The only thing lacking is that extra margarita to wash down all of those tasty tacos. Damn that pesky drive home.
In SoCal, ripe produce, prime cuts, and fresh fish are all at our finger tips, and we are constantly selling ourselves and our taste buds short in our own kitchens. Well, no more. It's time to put a twist on Taco Tuesday at home, and enjoy that extra margarita.
These recipes will knock one out of the park and swing Taco Tuesday from the restaurants, back home.
Swai Fish Tacos
Ingredients:
1. 2 Swai fillets (cut into strips about an inch thick)
2. 8 small white corn tortilla shells
3. 2 tbsp butter or margarine
4. 2 cups Panko bread crumbs
5. 1 cup vegetable oil
6. ½ cup sour cream
7. 3 Chipotle Chiles in adobo sauce
8. 2 Limes (one lime cut into quarters)
9. ½ cup shredded lettuce
10. Your favorite packet of taco seasoning
Instructions:
Place the fish in a shallow dish. Cover the fish with the juice of ¾ of a lime, and ½ of the taco seasoning packet. Rub 2 of the chipotle peppers over the fish, cover, and set aside to marinate.
While the fish is marinating, lightly butter one side of each tortilla shell. In a small skillet, over medium heat, warm each shell until soft. Plate and set aside. Next, mix the remaining chipotle, sour cream and the juice of the remaining ¼ of lime together in a bowl. Stir until well combined and smooth.
Pour the cup of oil into the same skillet and heat to medium high. Roll each strip of Swai in the Panko bread crumbs so that each piece is covered evenly. Drop the fish into the skillet, four strips at a time and fry until lightly brown on both sides. Remove from skillet and set on a paper towel covered plate to drain the extra oil.
Place one strip of fish in the middle of a taco shell, top with lettuce (and any of your other favorite veggies such as green onions, tomatoes, or olives), and a dollop of the tangy sour cream.
Spicy Wonton Tacos
Ingredients:
1. 8-12 wonton papers
2. 2 boneless skinless chicken breasts (chopped finely- almost minced)
3. 3 green onions (chopped)
4. ¼ cup red onion (thinly sliced)
5. ½ cup shredded carrots
6. 3 tbsp rice wine vinegar
7. ½ cup teriyaki sauce
8. 2 tbsp sriracha sauce
Instructions:
Set the oven to 385 degrees and cover a deep dish pan with foil. Lightly brush each wonton paper with a little olive oil and hang over the edge of the pan all around.
Combine the vinegar, teriyaki, and sriracha. Sauté the chicken in a lightly greased skillet, over medium heat. Once the chicken is about cooked through, add the sauce combination, bring to a slight boil, and let the sauce thicken.
Put the deep dish pan in the oven until the wonton papers are crisp and flaky. Putting them over the edge creates the perfect cavity to put the chicken in. Finally, top with the green onions and shredded carrots.
Video Slider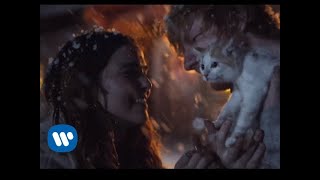 Win Tickets to See Ed Sheeran at the Rose Bowl
Ed Sheeran is back in Los Angeles, and your chance to see him perform is at the Rose Bowl in Pasadena on Saturday, Aug. 18. We are giving away complimentary tickets to the show. For a chance to enter to win, email us at
[email protected]
with "Ed Sheeran" in the subject line and tell us why you would like to go.