Super Freestyle Explosion Explodes at Honda Center
Stevie B performs during Freestyle Explosion at Honda Center on November 14, 2015 in Anaheim, Calif. (Photo by Mora Creative Studio)
This was more than amazing!
On Saturday, November 14, Pacific Concert Group presented Super Freestyle Explosion at the Honda Center in Anaheim, Calif., featuring an '80s flashback with performances by Salt N Pepa, Lisa Lisa, Jody Watley, Rob Base, Stevie B, Exposé, The Jets, Tone Loc and Young MC.
And to the very least, we can classify this show as by far one of the best and most entertaining performances that the Honda Center has entertained this year.
To the surprise of no one, highly popular hip hop act Salt-N-Pepa threw down the house during their set, especially in their rendering of "Pus It". The danceable and much likable track got the packed house up and dancing nonstop throughout the four minute delivery. "Let's Talk About Sex", on the other hand, provided a glimpse of the sex scene in the late 1980s and early 1980s. While playful, it was oftentimes goofy but a treat to see and hear live. And one of the favorites of the night was "Shoop", a true classic in their repertoire.
As for myself, the performer I came to connect with the most was Stevie B. The 57-year-old singer, songwriter and producer was once among the leading lights of the Miami dance music scene of the late 1980s and he brought that talent on this night and very much pleased everyone, including me. With "In My Eyes", the charismatic vocalist ignited a sense of passion and profound romance while with "I Wanna Be The One", he sincerely and deeply serenaded us all. His performance, for a lack of a better word, was beautiful, musically, from a pop, R&B and electronic point of view.
Lisa Lisa, Jody Watley, Rob Base, Exposé, The Jets, Tone Loc and Young MC all mastered their sets also, respectively.
Lisa Lisa's "Can You Feel The Beat" completely fired up the stage and venue, leaving everyone speecheles and wanting more of her. The thing about this tune is that it is a catchy piece, partly because of its iconic lyrics and sensual vocals by Lisa Lisa. The dancer's routine, moreover, was incredibly well-done.
Super Freestyle Explosion should be back more often, whether in Anaheim or anywhere else in the greater L.A. area. Why? It's pure nonstop musical entertainment.
Video Slider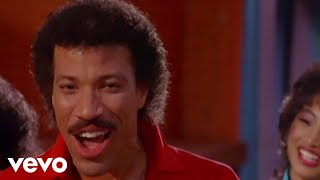 Win Tickets to See Lionel Richie at Hollywood Bowl
Lionel Richie is performing with very special guest Mariah Carey on the All the Hits Tour, and your chance to see them is at the Hollywood Bowl on Monday, July 31.