Summon Summer with a 'Wicked' Party
Let the music transport you to a Wicked Paradise this Sunday. (Ouija Entertainment)
Nothing says summer like a pool party, and Ouija Entertainment is ready to bewitch you by throwing the ultimate bash. Perched above the pool at the the Mondrian, Skybar not only provides stunning views but is also the hot spot for L.A. nightlife and provides the setting for some devilish fun at the second installment of Wicked Paradise on June 14.
Hosted along with L'Affaire Musicale, the exclusive party gives fans of EDM a day they won't soon forget. Temperatures are sure to rise with special guest DJ Matoma leading the charge as the day's entertainment. Hailing from Norway, the music producer and DJ has quickly become a favorite among the EDM community and is well on his way to becoming a global sensation. Not only is he taking over the scene with his own sound, he's also produced remixes for Latin heartthrob Enrique Iglesias, Imagine Dragons, Tegan & Sara, Truls and Marit Larsen.
Known for his tropical house music, Matoma's set list is sure to provide the ultimate soundtrack for the day. After all, the genre itself conjures the image of a picture perfect beach, drinks with umbrellas, hammocks strung up between palm trees and everything else you would want from a tropical vacation.
Based out of Los Angeles and founded by Matt Orlove, Ouija Entertainment has partnered with L'Affaire Musicale to present Wicked Paradise as both companies aim to showcase talent from across the globe and bring the underground to the mainstream. Having similar business beliefs and goals, Orlove says together, he and L'Affaire Musicale CEO Tom Astley have become a strong entity.
While Orlove comes from more of a marketing, sales and production background and Astley from a music background, both men are teaming up once again to present a magical day with some of the best talents in the music scene. JackLNDN, Matt DiMona, Dino Soccio, Williams + Summer Ryann and Maikol + Christofi (b2b) are all set to play supporting sets throughout the night.
Wicked Paradise is just another example of what Ouija Entertainment has in store for the L.A. music scene.
"I think here in [Los Angeles], a lot of mainstream EDM is less about music and more about production," Orlove says. "The underground scene is growing here."
Having previously presented FKJ with Prince Fox and Golf Clap at Sound, Satin Jackets with Cassian and Durante, and Le Youth with Solidisco, the company is seeking to make their name known. Not necessarily by word of mouth or social media, but by doing good work and making each event memorable.
The mission of Ouija Entertainment is to bring great music to various markets and to provide show-goers with an amazing experience, says Orlove.
Launching in San Francisco next month, Orlove recalls being a college student in the late '90s and describes the scene as a completely different experience. From the DJ not being center stage, to the music and lower production value, Orlove says his love of electronic music changed over the years as he got into other genres, but his love for it has been resurrected.
Come share your love of the scene, enjoy some cocktails and have yourself your very own paradise surrounded by a breathtaking atmosphere, drinks, friends and great music at Wicked Paradise II this Sunday.
Wicked Paradise is 21 and over. You can RSVP at Motomaskybar.nightout.com. Note, RSVP'ing does not guarantee entry. Being that it's an exclusive event, once you RSVP, people are randomly be chosen for an opportunity to purchase tickets. If selected, you will receive an exclusive link which allows you to make the purchase.
Skybar is located at the Mondrian Hotel, 8440 Sunset Blvd., Los Angeles. For more information on the party and any future events from Ouija Entertainment and L'Affaire Musicale, visit ouijaentertainment.com/la or laffairemusicale.com.
Video Slider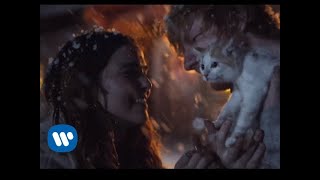 Win Tickets to See Ed Sheeran at the Rose Bowl
Ed Sheeran is back in Los Angeles, and your chance to see him perform is at the Rose Bowl in Pasadena on Saturday, Aug. 18. We are giving away complimentary tickets to the show. For a chance to enter to win, email us at
[email protected]
with "Ed Sheeran" in the subject line and tell us why you would like to go.