Strawberry Sweets that You Need to Try this Spring
Ripe Strawberry Mochi Ice Cream (Courtesy photo)
While strawberries are grown in California and Florida from January until November, the official strawberry season runs from April until the end of June. The season is supposed to have the sweetest, juiciest and tastiest berries that can be picked all year. Celebrate this short window of time by eating as many strawberry desserts as you can before the season ends.
Mochi Ice Cream
This delicious cold snack is made of a perfect ball of premium ice cream wrapped with a layer of mochi, which is a soft and gooey sweetened rice dough. A refreshing bite of ripe strawberry mochi ice cream will be great for those sunny days when you need a little extra help to cool off, and it will satisfy any intense berry craving. To amplify the fruity flavor of this dessert, get a pound of whole berries from the market and whip up some homemade strawberry sauce to coat your serving of mochi ice cream, along with crisp toppings like granola or chopped almonds. You can find this tempting treat courtesy of My/Mo Mochi ice cream in the frozen food aisle of your nearest grocery store, along with other enticing flavors like vanilla bean and chocolate mochi ice cream.
Pavlova
If you love the combination of strawberries and cream, then you will go wild for a pile of meringue, whipped cream and freshly picked berries. A simple strawberry pavlova recipe involves only a handful of ingredients like egg whites, white vinegar, confectioners' sugar, vanilla extract and heavy cream. Start by preparing the meringue by whipping up the egg whites and sugar until the mixture makes stiff peaks and then fold in the vinegar and vanilla. After the meringue is baked and lightly crisped, cover it with whipped cream and sliced berries for a beautiful dish.
Chocolate Dipped Strawberries
If you prefer to have just a little bit of chocolate with your dessert, then you should learn how to make chocolate covered strawberries — you can choose white, milk, dark or flavored chocolate for your dipping mixture. Remember to use a high-quality brand for your chocolate, because it will contain more cocoa butter and make a nice, glossy coating. Melt the pieces over a double boiler until the contents are completely smooth and gently dip the washed and dried strawberries into the bowl one at a time. Rest them on a baking sheet lined with parchment paper and leave them alone until the coating has hardened. You can roll the berries in other toppings like chopped nuts,crushed peppermints, crumbled cookies, coarse sea salt or toasted coconut shavings.
Strawberries are so tasty all on their own that they might as well be candy, but if you want something more than a plain bowl of washed fruit, you should try these incredible sweets. Delightful mochi ice cream sundaes, crispy pavlovas and batches of chocolate coated strawberries are all treats that display the versatility and flavor of this amazing ingredient. So, get these desserts on your table, pick up your spoon and start celebrating before the season is officially over.
Video Slider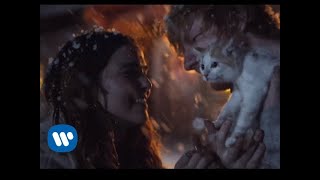 Win Tickets to See Ed Sheeran at the Rose Bowl
Ed Sheeran is back in Los Angeles, and your chance to see him perform is at the Rose Bowl in Pasadena on Saturday, Aug. 18. We are giving away complimentary tickets to the show. For a chance to enter to win, email us at
[email protected]
with "Ed Sheeran" in the subject line and tell us why you would like to go.