Straight Outta Compton, Now on DVD
Straight Outta Compton is available on Blu-ray, DVD and Digital HD.
John Huston has one of the great lines in Chinatown when he dismisses his current reputation as a mere result of having been around forever. "Politicians, ugly buildings and whores all get respectable if they last long enough." The same might be said of musicians, as the biopic Straight Outta Compton, currently released on the home video market, proves. The film – which earned over $160 million dollars, making it one of the surprise hits of last summer – chronicles the rise of the Compton rap supergroup N.W.A. during the late '80s and early '90s.
The remarkable thing about Straight Outta Compton is that the film can look back at the rise of gangsta rap during that time period and present it in a manner meant for mass consumption. During the time period in which N.W.A. became popular, their musical genre in general and the group's songs in particular were considered incredibly dangerous in a way that no current musical acts can even begin to realize. Compared to the fear that suburban parents of that time had over the effect of gangsta rap on American culture, current worries about Miley Cyrus twerking in her underwear seem positively quaint.
But like most cultural fears over the influence of popular music, the predictions came to naught. N.W.A. did not lead to an armed insurgence out of Compton, nor did it inspire the suburban white boys who listened to its music to join gangs and engage in drive-by shootings. America changed N.W.A. as much as the group changed America. Ice Cube, who is portrayed by his son O'Shea Jackson Jr., emerged as a dependable actor who starred in Disney films. Dr. Dre sold his business to Apple. These supposedly dangerous revolutionaries from Compton are now the establishment, the type of men invited to lend class and respectability to a Grammy presenters list.
As a film, Straight Outta Compton is a reliable, Hollywood rags-to-riches tale, with the requisite obstacles in place. It owes more of a debt to Coal Miner's Daughter or Walk the Line than to Boyz N the Hood or Menace II Society. The young actors who play the various members of N.W.A. give solid performances, and Paul Giamatti racks up another credit as a music industry insider as the group's manager. Giamatti has become to music producers what John Goodman is to vulgarian studio executives and Alec Baldwin is to smooth corporate titans.
Straight Outta Compton may not break ground as a film, but it's a canny depiction of how even the most controversial people in our pop culture can end up as the establishment, meriting loving depictions released by one of Hollywood's biggest studios.
Video Slider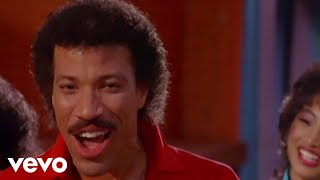 Win Tickets to See Lionel Richie at Hollywood Bowl
Lionel Richie is performing with very special guest Mariah Carey on the All the Hits Tour, and your chance to see them is at the Hollywood Bowl on Monday, July 31.