Why We Still "Feel the Need" for Top Gun After 30 Years
Tom Cruise as Maverick in Top Gun from 1986.
I attended the Cockpit USA & Budweiser 30th Anniversary party for Top Gun on Monday, May 16, at the London in West Hollywood. The special guest that night was Whip Hubley, who portrayed Hollywood in the film. You know how some films are considered a disappointment if they don't gross $100 million in their opening weekends? Well, there was a time not too long ago, when it was a major achievement for a film to gross $100 million in its entire theatrical run. Hubley recalled when Variety published a two-page spread celebrating the film's achievement. Top Gun would go on to gross almost $180 million domestically which is about $412 million when adjusted for inflation.
Hubley also gave us a little inside information about the film. When he would go in for a looping session (re-recording dialogue after a film is shot), he noticed that scenes kept being cut. Top Gun had originally started out as more of an ensemble film. Studio executives were certain that Tom Cruise was about to be a big star, so Top Gun was cut to be more of a star vehicle for him. This leads us to the first reason why Top Gun matters.
Though Hubley and the rest of the cast saw their roles greatly diminished, the studio execs were right. Not only did Tom Cruise become a big star, but he was the biggest star in Hollywood for a long time. He was named the No. 1 top moneymaking star at the box office in Quigley Publishing's annual poll of movie exhibitors a record seven times between 1986 and 2005. Not only that, but he was in the Top 10 of Quigley Publishing's poll an astounding 18 times, tying for No. 3 of all time with Gary Cooper behind No. 1 John Wayne and No. 2 Clint Eastwood.
Top Gun introduced the world to a handful of other actors besides Cruise who would go on to do big things. After starting her career as a television actress, Top Gun was Meg Ryan's third feature film. She would go on to be one of the biggest actresses of the 1990s. Though Anthony Edwards had already starred in Revenge of the Nerds, among other films, Top Gun was his biggest box office hit. He would earn Emmy nominations for his role in one of the biggest television hits of the 1990s, "ER." This was the very first acting credit of any kind for Adrian Pasdar. Not only was he in the before-its-time and criminally underseen Fox show, "Profit," he would later star in the hit "Heroes" and is now part of the Marvel television universe. After starring in the comedy classic – and one of my personal favorites – Real Genius, the year before, Val Kilmer became a major star because of Top Gun. He has enjoyed a long film career, including his role as Bruce Wayne/Batman in Batman Forever. Top Gun was the fifth movie credit for Tim Robbins who would go on to become a big star himself a couple years later with Bull Durham, star in one of the most beloved movies of all time, The Shawshank Redemption, and win an Oscar for Mystic River.
We all have movie lines that we quote over and over. One of my personal favorites is from Heathers: "I don't really like my friends either. It's like they're people I work with, and our job is being popular and shit." Though Heathers didn't make the list of AFI's 100 Years… 100 Movie Quotes, Top Gun did with "I feel the need – the need for speed!"
Top Gun cemented the status of Jerry Bruckheimer and Don Simpson as the producing team of the 1980s. Due to the success of this film, as well as films such as Flashdance and Beverly Hills Cop, the duo was named Producers of the Year by the National Association of Theater Owners in 1985 and 1988.
Top Gun was the second big screen feature of director Tony Scott. Though he was the younger brother of fellow director, Ridley Scott, he never had to live in his brother's shadow with a filmography that includes Revenge, True Romance, The Fan, Enemy of the State and Spy Game. Scott would also go on to have a fruitful collaboration with Denzel Washington in which they made five films together: Crimson Tide, Man on Fire, Déjà Vu, The Taking of Pelham 123 and Unstoppable. On a side note, in a former life as a bartender, I had the pleasure of bartending at several of his parties. I was happy to report that he was a very generous and gracious host.
Finally, an iconic movie has to have an iconic theme song right? You can't think of Top Gun without thinking of "Danger Zone" and vice versa. "Danger Zone" helped cement Kenny Loggins' status as King of the Movie Soundtrack in the 1980s after his Caddyshack hit, "I'm Alright," and the eponymous hit from Footloose. The funny thing is, he almost didn't record "Danger Zone." Toto was originally set to record the song, but various legal issues kept them from doing so. After Bryan Adams and REO Speedwagon subsequently turned the gig down, the song was offered to Loggins to record, and the rest is history.
Video Slider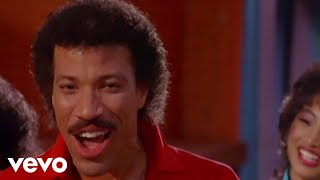 Win Tickets to See Lionel Richie at Hollywood Bowl
Lionel Richie is performing with very special guest Mariah Carey on the All the Hits Tour, and your chance to see them is at the Hollywood Bowl on Monday, July 31.