Special Effects Supervisor Mark Hawker Talks Working on A Quiet Place
John Krasinski in A Quiet Place (Paramount Pictures)
One of the most critically acclaimed films this year, A Quiet Place, is now available on DVD and Blu-Ray and now audiences can experience the thriller from the comfort of their own home.
Directed by John Krasinski, the low budget film has grossed more than $330 million worldwide since its theatrical release.
The film became a bit of a phenomenon and took everyone by surprise with how incredible it was, from the script, to the actors and of course everything in-between.
A Quiet Place tells the story of a family that must live their life in silence to avoid being hunted by mysterious creatures.
Real life couple Emily Blunt and John Krasinski play married couple Evelyn and Lee, parents who will protect their children at any cost no matter what danger may come their way.
Special effects supervisor, Mark Hawker helped to make the movie what it is.
Describing the requirement of his tasks, he said," special effects, basically it's anything that happens on camera. It's not visual effects. Things that involve cars or anything like that are always special effects."
Hawker said it took about 28 days to shoot the film and recalled reading the script and immediately being interested in being a part of the team.
When speaking of the shooting, he said "This movie was a low budget film and so even when working on big movies where the budget is more, they worry. So in this case, every penny did count. It involved a lot of creativity and going back to old school ways."
The special effects supervisor was further drawn to the film because it plays like a silent movie.
"That's why I wanted to work on this, because it was something new and modern," Hawker said.
"Even people chewing their popcorn was too loud because the film was so silent."
When it came to working with Krasinski, Hawker spoke of the corn scene in which they generated ideas together.
"He [Krasinski] liked to work with what he had and make the best out of it."
As for the corn scene, he explained, "just the corn silos sequence, everything there is practical."
"We had quick sand bricks, but this being the real deal it was a longer process."
"It took about 5-6 people to operate with the kids being down there in the actual corn," he said.
With a career as a special effects supervisor for films including A Wrinkle in Time, Annabelle: Creation, Ghostbusters: Answer the Call and many more, Hawker has made a name for himself in the industry.
For those interested in following in his footsteps, his advice is," I would say to take wood shop classes or any class that requires building something.
"Unfortunately a lot of schools don't offer classes like that anymore but you can also volunteer to be a special effects assistant and that's cool too."
"Basically what we are are just tinkerers, so if you can do that then you're set."
To view the Hawkers special effects work, you can pick up A Quiet Place on DVD and Blu-ray now.
Marvin Vasquez and Joelly Vazquez contributed to this story.
Video Slider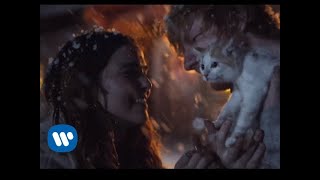 Win Tickets to See Ed Sheeran at the Rose Bowl
Ed Sheeran is back in Los Angeles, and your chance to see him perform is at the Rose Bowl in Pasadena on Saturday, Aug. 18. We are giving away complimentary tickets to the show. For a chance to enter to win, email us at
[email protected]
with "Ed Sheeran" in the subject line and tell us why you would like to go.