Special-Edition Papa's Pilar Sherry Finish Released by Hemingway Rum Company
The suggested retail price for the Sherry Finish is $44.99-$46.99. (Courtesy photo)
If you have a spirit of adventure, a heart full of stories to tell and a love of rum, Hemingway Rum Company has a new release that will delight and encapsulate all that is good.
The makers of Papa's Pilar Dark and Blonde rums has announced a new limited-release of a special edition Sherry Finish in select U.S. markets.
The release will consist of only 1,400 6-pack cases of rum, which are of course inspired by Ernest "Papa" Hemingway's own love of adventure.
For those unfamiliar with the beverages, they are hand-selected from ports-of-call in the Caribbean, Central America and Florida.
The team of Master Blenders created the special release by using seven different hand-selected rums and Papa's Pilar Dark.
Further aged in Spanish Oloroso Sherry Casks, the beverage is sure to quench anyone's thirst.
Papa's Pilar Production team embraced a similar methodology used in Scotch Whiskey when it came to blending the rum and allowing it to meld together.
By doing so, it's able to interact with the Sherry and French Oak.
Additionally, the strong base flavors and the method used give the rum a slight sweet taste combined with a spicy finish.
The tasting notes consist of vanilla, cinnamon, maple, coffee and almond with hints of Port and Sherry.
With the new layer of sweetness, it makes for complex rum that is sure to delight many.
The suggested retail price for the Sherry Finish is $44.99-$46.99, and it's to be noted Papa's Pilar was developed in conjunction with Ernest Hemingway's estate and the Hemingway family donates 100% of their royalty profits to numerous organizations which represent adventure, conservation and literacy.
To look up locations where you can purchase the drink and to view the full story behind Papa's Pilar, visit www.papaspilar.com.
Video Slider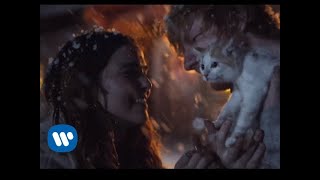 Win Tickets to See Ed Sheeran at the Rose Bowl
Ed Sheeran is back in Los Angeles, and your chance to see him perform is at the Rose Bowl in Pasadena on Saturday, Aug. 18. We are giving away complimentary tickets to the show. For a chance to enter to win, email us at
[email protected]
with "Ed Sheeran" in the subject line and tell us why you would like to go.