Sneak Peek at "I'm OKate" Comedy Based on Kate del Castillo's Life
Kate del Castillo stars in "I'm OKate."
The cast and director of the upcoming play "I'm OKate!" held a press conference at the Wiltern Theatre in Los Angeles yesterday to promote the satirical comedy based on Kate del Castillo's life. The "bio-cabaret," as they describe it, is going to be presented on Dec. 10 at the Warnors Theatre in Fresno and Dec. 16 at the Fox Performing Arts Center in Riverside.
The project was written specifically for Kate del Castillo by Ana Francis Mor and Nora Huerta, members of the playwrights collective known as Las Reinas Chulas.
"They hit me up and said, 'Hey, we have something for you that we think you're going to really like'," del Castillo said. "I get to make fun of myself and what I've been through these past two years, and I get to do it alongside my best friends."
Roxana Castellanos and Shaula Vega co-star with del Castillo under the direction of Bruno Bichir.
"When Kate called me, I immediately jumped on the project. Not only is she a close friend, we've known each other since we were kids. It's an opportunity for me to do what I was born to do: direct," Bichir said.
When asked if it was complicated for him to work with an all-female cast, he responded, "Women aren't complicated, they're complex, just like their orgasms, which is why it's imperative to be on your A-game and work hard, and everything will be fine. Besides we're all friends and get along great."
Despite it's English title, "I'm OKate!" displays a tag line informing the potential audience that it's "a comedy completely in Spanish." Vega expressed her satisfaction in being able to bring this style of theater to Latinos living in the U.S.
"It's a great opportunity for us to bring this cabaret-style of play and humor to our fellow Mexicans and Latinos in general living here," Vega said. "With the current political climate being what it is and all the craziness going on in the world, I'm glad we get to bring them a bit of laughter."
"I'm OKate" runs at Warnors Theatre (1412 Fulton St., Fresno 93721) at 6 p.m. on Sunday, Dec. 10 and at Fox Performing Arts Center (3801 Mission Inn Ave., Riverside) at 9 p.m. on Saturday, Dec. 16. For tickets, visit livenation.com.
Video Slider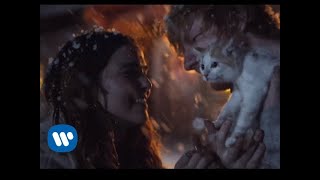 Win Tickets to See Ed Sheeran at the Rose Bowl
Ed Sheeran is back in Los Angeles, and your chance to see him perform is at the Rose Bowl in Pasadena on Saturday, Aug. 18. We are giving away complimentary tickets to the show. For a chance to enter to win, email us at
[email protected]
with "Ed Sheeran" in the subject line and tell us why you would like to go.