"Small Mouth Sounds" Speaks the Truth Through Silence
"Small Mouth Sounds" at The Eli and Edythe Broad Stage in Santa Monica. (Courtesy photo)
Equal parts delightful and insightful, Bess Wohl's stunningly meditative new play "Small Mouth Sounds" took Santa Monica by (silent) storm last week when it premiered to a rapturous reception at the beautiful Broad Stage. Having turned heads in New York's off-broadway scene before making it's way West for a successful run in San Francisco, "Sounds", which runs through Sunday, January 28, is a staggeringly unique piece by every metric. In plot, characterization, and technical stagecraft, it bucks convention and flouts the "obvious choice" in favor of the cerebral, the absurd, and even the divine.
The story concerns a group of troubled people who find themselves sharing space at a rural, week-long silent meditation retreat (ostensibly in the Buddhist tradition), where they listen intently to the seemingly sage, dulcet-voiced teachings of their Master (Orville Mendoza) as he intones over the speaker system, never to be seen throughout the length of the play. The motley crew of spiritual seekers are forced to distance themselves from the distractions of modern life, hunkering down in a sparse cabin and sleeping on thin floor-mats in close quarters. Among their ranks is brash yoga enthusiast Rodney (Edward Chin-Lyn), who puts on airs of enlightenment and possesses a proclivity for running around fully naked to show off his ripped bod. These peccadilloes serve to irritate Rodney's would-be "roommate", the twitchy and neurotic Ned (Ben Beckley), who attempts to find himself after a string of horrific tragedies reduced his mental and physical state to ruins.
Both Rodney and Ned take a shine to Alicia (Brenna Palughi), a permanently frazzled blond who has a hard time kicking her smartphone addiction as she wrestles with the aftermath of a bad breakup. Meanwhile, the older couple of Judy (Cherene Snow) and Joan (Socorro Santiago), enter the week with varying hopes— Judy is cynical while Joan openly embraces the Master's open-ended parables— only to find their relationship becomes increasingly fraught as old wounds are opened up regarding Judy's failing health. Finally, there's the lanky and awkward Jan (Connor Barrett), a good-natured soul with tragedy in his past who ends up being the most dogmatic of the group in regards to the rule of silence.
Part of what makes "Small Mouth Sounds" stand apart is, rather appropriately, the lack of larger mouth sounds— such as, say, words. Watching the characters interact in the absence of speech (for the most part) is a fascinating study in human physicality. And the actors onstage all take rise to the challenge, evolving small tics and gestures into fully realized dramatic moments with great aplomb. Further lending to this remove from the norm are the eye-popping sets, which literally move forward and morph as they transform a meditation space into the group cabins in real-time. It's a seamless effect the likes of which are rarely captured on any stage in this reviewer's experience.
Punchily written by Bess Wohl ("Pretty Filthy") and directed with mature restraint by Obie Award winner Rachel Chavkin ("Natasha", "Pierre & The Great Comet of 1812"), "Small Mouth Sounds" is the rare play that succeeds on an emotional level and a conceptual one. It is both, in its own way, a perfect joke from set up to punchline, and also a telling and deeply rooted treatise on the nature of loss and the impermanence of all things. Without spoilers, it must be commented that the Master's ending monologue was among the most profound I've heard in a work of drama in years, and one that's unlikely to leave a dry eye among those watching it unfurl. In the Buddhist tradition, there is a saying: "Three things cannot be long hidden: the sun, the moon, and the truth." Though one can't speak to the astrological impact of theater, 'Small Mouth Sounds' certainly pulls the curtain open on the latter.
Video Slider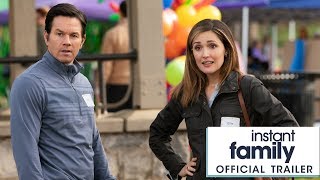 Win a Blu-ray + DVD + Digital Copy of Instant Family
Everyone everywhere can now enjoy Instant Family on Digital and on Blu-ray™ Combo Pack, and DVD on March 5 from Paramount Home Media Distribution. For a chance to enter to win at random, please email us at
[email protected]
with "Instant Family\" in the subject line and let us know why you\'d like to win a copy. This contest ends March 25, 2019.