Skinny Tie Madness Makes Putting Together a Holiday Outfit Easy
The Human Pyramid Fail design from Skinny Tie Madness is perfect for the holidays.
Having trouble choosing an outfit for the holidays? Look no further, because Skinny Tie Madness has you covered. The company, which was founded in 2012, is redefining the skinny tie, using every possible color and fabric to create the ultimate piece of accessory.
The Human Pyramid Fail is just one of the ties listed on the website that boasts over 100 skinny ties. This 100-percent-cotton tie comes with a black tie clip made out of a metal material. The tie is a "red gingham plaid" that measures two inches wide by a 58-inch length, and it is finely crafted with a brushed cotton finish that pleasingly resembles a picnic blanket; seriously, it looks really nice.
With the accessible price of only $29.99 and the accurate color alignment, this tie fittingly falls into the holiday-outfit category. The bold red squares that intertwine and mesh with the white cotton create a complexion that is sure to match any button-up shirt for all of your festivities. Keep it simple and classy with a white button up, or get extremely festive and match it with your red shirt.
However, the limits for the use of this tie stretch far beyond this holiday season. In my opinion, this tie can be dressed down for something casual, or as the website describes, something as sophisticated as wedding attire. Don't let the price – or the Christmas colors – fool you. The elegance and attention to detail on this tie is as sophisticated as it gets, and thanks to the 100-percent cotton, the care required for it is also as simple as it gets.
If you're shopping with Skinny Tie Madness then you're obviously looking to "push the envelope" with your outfit at events to come. Check out the website where you are sure to find a more versatile tie clip or look through the skinny ties that come in patterns such as: Navajo, floral and animal prints – all of these coming in an array of colors and materials.
Check them out at skinnytiemadness.com, and Happy Holidays!
Video Slider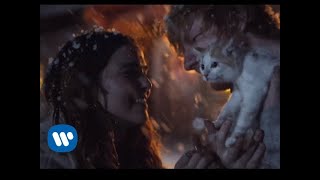 Win Tickets to See Ed Sheeran at the Rose Bowl
Ed Sheeran is back in Los Angeles, and your chance to see him perform is at the Rose Bowl in Pasadena on Saturday, Aug. 18. We are giving away complimentary tickets to the show. For a chance to enter to win, email us at
[email protected]
with "Ed Sheeran" in the subject line and tell us why you would like to go.