Simplify Storage Space with Lay-n-Go
Lay-n-Go innovative organizer
Ever feel like your household is in chaos when it comes to organization and storage space? With Lay-n-Go, the hassle of keeping things neatly tucked away is handled.
Founded by Amy and Adam Fazackerley, Lay-n-Go was created to provide customers with innovative organizational solutions that wouldn't take up lots of space.
Initially developed to tame large toy collections, the company has since expanded from their line of Play Products to cosmetics bags, products for men, pets, and more.
The Lay-n-Go Lite retails for $21 and is available in red, orange pink green and blue.
The personal activity play mat allows parents and kids to grab and go.
The mat features raised lips, which help keep toys contained, and has a drawstring closure, making it easy to carry it around.
The 4 in 1 solution acts as an activity mat, cleanup, storage and carryall in one.
For those who love to get ready but hate having their cosmetics strewn all over, the Lay-n-Go Cosmo items are the perfect solution.
Available in various sizes, the bags allow for easy clean up and let users see all their products at once.
Gone are the days of digging through bags for missing cosmetics, the Lay-n-Go bags are great for at home use and travel.
The Lay-n-Go Cosmo Mini (13") in Seafoam retails for $19.95.
From storing make up, brushes, keys, earphones, etc., the bag is perfect for daily use and is an easy way to get rid of clutter.
For those needing a bigger size, the Lay-n-Go Cosmo (20") in Serene Blue/ White Moroccan retails for $34.95.
All bags are easy to clean and are machine washable.
The Lay-n-Go Traveler easily fits men's essentials and retails for $29.95.
For those tired of packing multiple bags or just want to keep their items tidy, Lay-n-Go offers plenty of solutions.
To view all products, visit www.layngo.com.
Video Slider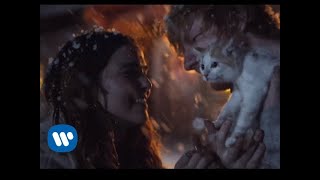 Win Tickets to See Ed Sheeran at the Rose Bowl
Ed Sheeran is back in Los Angeles, and your chance to see him perform is at the Rose Bowl in Pasadena on Saturday, Aug. 18. We are giving away complimentary tickets to the show. For a chance to enter to win, email us at
[email protected]
with "Ed Sheeran" in the subject line and tell us why you would like to go.