Show of the Week: DANNYmotherfuckingBROWN
This week we're talking dope beats and dirty lyrics at the El Rey this Friday.
Danny Brown is in town on a run of shows to promote his most recent EP, Old. He's a rapper for sure, but the appeal of Danny Brown's music lies mostly in its production. His tracks are heavy, produced by some big names in the trap and EDM scene. At the same time, lyrically, Danny Brown is a pottymouth. About 95% of his songs are about getting down, and frankly, it's pretty crass, you get desensitized after about the third song.
So why is this show going to be so good? Because Danny Brown shows are a freaking party. Somewhere between a dance party and a sidewalk rap battle, Danny Brown keeps his poise on stage and lets his music do the work. He doesn't move much, he just sticks out his tongue in between songs like a hood rat Gene Simmons and the crowd goes buck for it.
And the crowd really does go buck. A little while back, Danny Brown made headlines when a fan from the front row unzipped his pants and gave him a blowjob mid flow. Being the seasoned professional that he is, Danny Brown never missed a beat and rhymed right through it.
Don't believe, check the video on YouTube. You might have to see it a few times to make it what's going on, but it's there:
Video Slider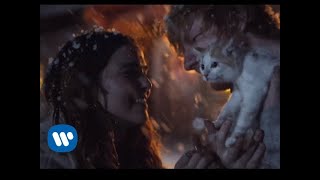 Win Tickets to See Ed Sheeran at the Rose Bowl
Ed Sheeran is back in Los Angeles, and your chance to see him perform is at the Rose Bowl in Pasadena on Saturday, Aug. 18. We are giving away complimentary tickets to the show. For a chance to enter to win, email us at
[email protected]
with "Ed Sheeran" in the subject line and tell us why you would like to go.