Saint Marc Puts a Twist on American Favorites
Get your fill of a fun atmosphere, cool cocktails and bacon, bacon, bacon at Saint Marc.
From the moment you walk up to Saint Marc and catch its gorgeous, circular, open-aired bar in your sightline, a sense of comfortable tranquility washes over you. The space is filled with natural elements and a free-flowing, down-home vibe. Trendy chalkboard signs, friendly pups and outdoor seating lend to a laid-back, fun and inviting atmosphere. It is exactly the way one should feel when spending a beautiful Saturday afternoon in Orange County's Huntington Beach.
Saint Marc's gracious staff only adds to the restaurant's charm and comfort. I was promptly greeted by Manager Matt Tobey who shared Saint Marc's inventive Americana-pub approach to dining and set the stage for the tour of deliciousness that I was about to embark upon.
Saint Marc's culinary concept is well-thought-out comfort food with a twist.
The restaurant's brunch menu, which is updated every three months, keeps selections fresh and exciting for dining patrons. Saturday's brunch menu was built around the idea of a Bacon Bar, and many dishes on this menu would feature America's favorite breakfast staple. Chef Winnona Herr executed a mouthwatering balance of salty, savory and sweet flavors in every dish. Not to be outdone, Saint Marc's cocktail creations are just as innovative.
My meal began with selections from the Pub Menu. Bacon-wrapped dates were filled with luscious cream cheese, wrapped in crispy bacon and drizzled with a sweet maple reduction. I've experienced bacon-wrapped dates before, but the flavors and textures of this dish complimented one another in an unrivaled manner. Every bite was culinary heaven. I also sampled the Bacon Wrapped Artichokes as well as the Watermelon, Feta, Jalapeno Salad – a light and refreshing bacon-free dish that will transport you to a warm afternoon in July no matter what the weather.
But the real highlight of the Pub Menu is the Bacon Bar. Unlike anything I've ever experienced before, the bacon bar features individually wrapped and uniquely flavored slices of bacon. Each delicious slice I sampled ran the gamut of flavors from a smoky barbecue rub and spicy Habaneros to the down-home sweetness of Apple Pie. My personal favorite was the Garlic Parmesan. Sliced bacon coated in buttery parmesan, complimented by the bold bite of garlic – it was perfect.
Saint Marc's brunch menu is even more extensive with delectable dishes sure to impress even the most selective of palates. The World Famous Choco Cro is not your average chocolate croissant from Starbucks. Buttery and warm, this chocolate-filled croissant pairs perfectly with the restaurant's B- 52. A cocktail creation that interfuses syphon brewed coffee and Bailey's liqueur is topped with a handmade vanilla bourbon whipped cream. Could anything be more suited for brunch?
Everyone has had a cinnamon roll, but chances are, you have never experienced anything like the Neuske's Bacon Cinnamon Roll. Sinfully good, this dish of cinnamon rolls is served in a personal-sized skillet and is topped with bacon crumbles, sitting atop a delicious maple glaze perfect for dipping. I literally could not get enough.
This delightful menu also included Spinach Bacon Quiche, Fried Green Tomatoes and new to the menu, Sprouts and Snouts. Brussel sprouts are known to pair well with bacon. Saint Marc's take on the classic includes sweet potatoes and a sunny-side-up egg, a delicious twist that is well worth a try.
To quench your thirst and compliment your meal, give the Ghost Bloody Mary or the Saint Marc Mimosa a try. Each is unique and equally enjoyable. For fun with friends, go with the Jello Shots. Pre-Prohibition Rum Punch shots are divine and served in a clever shot glass with a twist feature. Talk about elevating the level of class that is J-E-L-L-O. Relax with a rare Blood Orange Margarita or impress company with the Twisted grapefruit. Marc personally demonstrated the preparation of this beverage. Grapefruit is cored and internally blended. Then a liquor of your choice is funneled in. Stick a striped Tropicana-esque straw in the fruit and call it a cocktail. Although, I prefer to call it mouthwatering genius.
One of Huntington Beach's newest attractions, Saint Marc is well worth a try and is sure to become a Pacific City staple.
Saint Marc is located at 21058 Pacific Coast Highway, Huntington Beach. For more information, call (714) 374-1101 or visit saintmarcusa.com.
Video Slider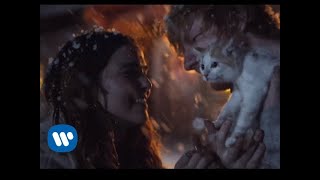 Win Tickets to See Ed Sheeran at the Rose Bowl
Ed Sheeran is back in Los Angeles, and your chance to see him perform is at the Rose Bowl in Pasadena on Saturday, Aug. 18. We are giving away complimentary tickets to the show. For a chance to enter to win, email us at
[email protected]
with "Ed Sheeran" in the subject line and tell us why you would like to go.