"RuPaul's Drag Race: All Stars" is Coming this Winter
"RuPaul's Drag Race: All Stars" (Courtesy image)
With the latest premiere of a season of "RuPaul's Drag Race: All Stars," the hit VH1 drag queen reality competition, it is worth considering just how remarkable the success of the franchise is. Once a show on the minor gay cable network Logo, the program became a mainstream success upon its move to VH1, expanded beyond its niche audiences in West Hollywood, Chelsea and the Castro and won multiple Emmys, including two consecutive ones for host RuPaul Charles.
What is even more remarkable about "RuPaul's Drag Race" is that it premiered in 2009, in one of the lowest moments for gay rights in recent history. It passed in the wake of the passage of Proposition 8 banning gay marriage in California, a period in which the hope and change rhetoric of the Obama era seemed destined to ignore its gay constituents. Since then, just as the fortunes of gay Americans have risen thanks to numerous political and legal victories, so did that of "RuPaul's Drag Race," becoming a show as mainstream as any of the various iterations of Bravo's Real Housewife franchise if, even despite the show's transgressive nature, it remains a more positive portrayal of the human condition. It's also got tails wagging online with some even going as a far as predicting who'll be the celebrity judge. It seems that Vanessa Hudgens is the majority favorite.
Even as "RuPaul's Drag Race" has become a mainstream success, it has done so in a way that is mostly uncompromising. It may win Emmys up against "The Voice" and "The Amazing Race," but it is still a show hosted by a 6-foot tall, middle-aged black man dressed as a woman, which makes "The Voice" host Miley Cyrus' attempts to seem edgy feel downright quaint. And even if the show has made some alterations to its language, mostly in response to complaints from transgender activists instead of religious conservatives, it is a show that promotes Charisma, Uniqueness, Nerve, Talent, and it doesn't take Alan Turing to crack that code.
Even as an example of the mainstreaming of gay culture, "RuPaul's Drag Race" shines a light on a different type of gay man than the starring role on the typical NBC sitcom. Will and Jack might watch "RuPaul's Drag Race," but unlike the upper-class, essentially sexless gay lawyer required to be a the lead on "Will & Grace" in the 1990s, many of the competitors on the show are flamboyant minorities who would be out of place at yearly HRC galas. It was once the case that people like RuPaul's drag queens had their culture appropriated by people like Madonna. For the past decade, and perhaps for the first time, "RuPaul's Drag Race" places them at the forefront.
Video Slider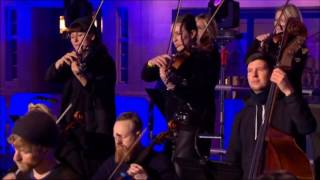 Win Tickets to See Pete Tong at Hollywood Bowl
Pete Tong is back in Los Angeles, and your chance to see him perform is at Hollywood Bowl on Thursday, Nov. 9. We are giving away complimentary tickets to the show. For a chance to enter to win, email us at
[email protected]
with "Pete Tong" in the subject line and tell us why you would like to go.