Ruido Fest Brings the Diversity
Molotov headline the second day of Ruido Fest.
There's no better way to welcome summer than with a music festival. And for those lucky enough to be in Chicago, one of the most diverse Latin-American music festivals is returning.
Ruido Fest 2017 will be in full force and will run for three fun-filled days. This year it features a wider variation in its lineup than ever before and will once again take place at the Addams/Medill Park from July 7-9.
Making its debut in 2015, Ruido Fest has since grown in both audience size and the number of performers taking the stage. In fact, this year more than 40 musicians will take the stage (four stages, to be exact).
Thanks to Rock Sin Anestesia, Riot Fest, Star Events and Metronome, the producers behind the festival, pre-sale tickets were available back in February and exceeded all sales expectations. Much like the prior concerts, Ruido Fest will be a massive celebration of not just Latin-American music, but its culture in general.
Concert-goers can expect to dance nonstop to bands like A Band of Bitches, Víctimas Del Doctor Cerebro and more. No matter how selective you may be when it comes to music, everyone will find at least one new band that captures their attention during the weekend experience.
Headlining acts include the legendary Norteño band Intocable, Puerto Rican reggae juggernaut Cultura Profética, Spanglish rock band Molotov and indie singer-songwriter Julieta Venegas. All three nights will feature different artists, so you'll want to make sure to plan according to catch your favorites live.
Night one consists of bands like Bomba Estéreo, Jessica Hernandez & The Deltas, Ácido Pantera and more. Attendees of the first night get to see the popular ska/rock band Desorden Público perform their hit "Plomo Revienta" to celebrate the 20th anniversary of the album's release.
The Saturday lineup is just as exhilarating as Molotov, Lucybell, Los Nastys and many more keep the crowd on their feet. In fact, Molotov also be celebrates their 20th anniversary of "¿Dónde Jugarán los Niños?"
If you were having a difficult time choose which day to go, the final day won't make your choice any easier. Mon Laferte, Fobia, Alejandro Marcovich and a dozen other names kick off the final night.
Luckily for those who can't bear to miss a single moment, three-day passes are still available and range from $149.98 (GA) upwards to $199.98 (VIP). Additionally, two-day passes are also available for Fri/Sat, Fri/Sun, Sat/Sun. General admission tickets are $94.98 while VIP Tickets go for $134.98. Lastly, if three full days of excitement is just way too much for you to handle, a variety of single day passes will be available for each day and will range in prices from $49.98 to $89.98.
It should be noted that VIP includes express entry gates, re-entry privileges, access to VIP seating and stage-front viewing areas, complimentary bottled water, private air-conditioned restrooms and access to a Premium beer and Spirits bar.
No matter which day you choose, Ruido Fest is an event you shouldn't miss. So whether you go alone or with a group of friends, check out ruidofest.com for updates and to purchase your tickets.
Video Slider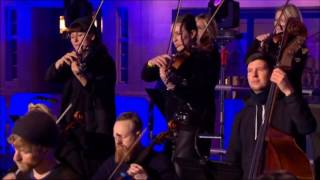 Win Tickets to See Pete Tong at Hollywood Bowl
Pete Tong is back in Los Angeles, and your chance to see him perform is at Hollywood Bowl on Thursday, Nov. 9. We are giving away complimentary tickets to the show. For a chance to enter to win, email us at
[email protected]
with "Pete Tong" in the subject line and tell us why you would like to go.