Review: Wisin y Yandel Make Triumphant Return to The Forum
Wisin y Yandel on Saturday, May 25 at The Forum (Courtesy photo)
"http://lol-la.com/wp-content/uploads/2019/07/JoseLuisRodriguez_728x90.jpg">
"http://lol-la.com/wp-content/uploads/2019/07/HB19_DIGITAL_HERBIEHANCOCK_PROMO_728x90.jpg">
"http://lol-la.com/wp-content/uploads/2019/04/7.png" alt="disney on ice banner">
"http://lol-la.com/wp-content/uploads/2019/07/Living-Out-Loud-LA-for-Air-Supply-728x90.jpg">
"http://lol-la.com/wp-content/uploads/2019/05/MTH-190039-Feel-The-Fame-Remarketing-Banner-728X90.jpg">
Latin music's most iconic duo, Wisin y Yandel, made their triumphant return to Los Angeles after a five-year hiatus.
The duo hit the stage five minutes before 9 p.m. To say that fans were anxious for the show to start is an understatement. As soon as the lights inside The Forum turned off, it was pandemonium; the noise level went from 0 to 1,000.
After watching a brief video of the duo coming off a spaceship, they walked onto the stage, they stopped for a brief second to see the crowd and then they started the show with "Como Antes." The rest of the night was a non-stop dance and sing-a-long show; they performed their new music as well as some of their classic anthems.
A highlight of the night happened halfway through the duo's set when Yandel was on the left side of the stage. A fan threw a red baseball cap on stage. Yandel grabbed it and put it on. Then he tossed his black baseball cap to the fan. The nearly hour and a half show also featured a whole lot of pyrotechnics that left fans in awe.
The duo interacted with fans throughout their set; they shouted out all the single ladies in the house, they talked to the men, and they shouted out different Latin America countries. And, of course when they mentioned Mexico, the noise level went through the roof.
Overall, Wisn y Yandel delivered a 22 song set that included new songs, their classic hits and their solo songs like "Abusadora," "Sexy Movimiento," "Rakata," "Escapate Conmigo," "Mayor Que Yo," "Moviendo Caderas," "Permitame," and "Noche de Sexo" – just to name a few.
It's safe to say that after a five-year hiatus fans were satisfied with an unforgettable show from Los Lideres.
Video Slider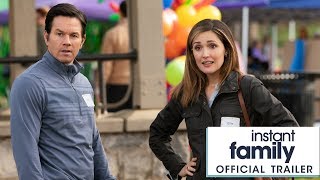 Win a Blu-ray + DVD + Digital Copy of Instant Family
Everyone everywhere can now enjoy Instant Family on Digital and on Blu-ray™ Combo Pack, and DVD on March 5 from Paramount Home Media Distribution. For a chance to enter to win at random, please email us at
[email protected]
with "Instant Family\" in the subject line and let us know why you\'d like to win a copy. This contest ends March 25, 2019.
"http://lol-la.com/wp-content/uploads/2019/05/MTH-190039-Feel-The-Fame-Remarketing-Banner-728X90.jpg">
"http://lol-la.com/wp-content/uploads/2019/07/HB19_DIGITAL_HERBIEHANCOCK_PROMO_728x90.jpg">
"http://lol-la.com/wp-content/uploads/2019/04/7.png" alt="disney on ice banner">
"http://lol-la.com/wp-content/uploads/2019/07/JoseLuisRodriguez_728x90.jpg">
"http://lol-la.com/wp-content/uploads/2019/07/Living-Out-Loud-LA-for-Air-Supply-728x90.jpg">